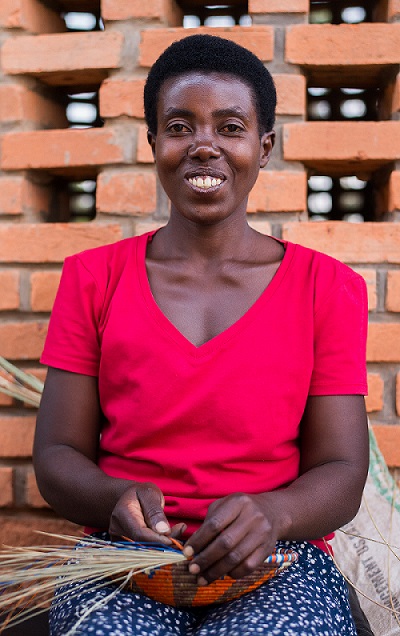 Denise: In her own words
My name is Denise. I first discovered Women for Women International when they came to my village to recruit women to join their programme. Now, I am a participant on the Women for Women International – Rwanda programme, and I attend the Women's Opportunity Centre three times a week. Here, I learn about beads and basket weaving and I enjoy it because I am able to make baskets in a team with other women. When I'm here I feel happy because I meet so many people and we share many good ideas. Before Women for Women International, I was lonely.
I've learnt many things through my programme. I learnt about nutrition, business planning, health, HIV prevention and also savings and investments. The stipend I received really helped me – I bought a goat that gave birth to seven babies. I sold five of them. I have three goats now, which is helping me.
I was here during the genocide and what I can say is that afterwards I was very poor. However, as you can see, my poverty has reduced.
Women for Women International has a big role to play in Rwanda. They have helped both me and my husband. For example, I make and sell baskets and bring the money home. Women for Women International provides a great deal of support.
I believe that my future is bright, and one day, I will be someone who empowers others.