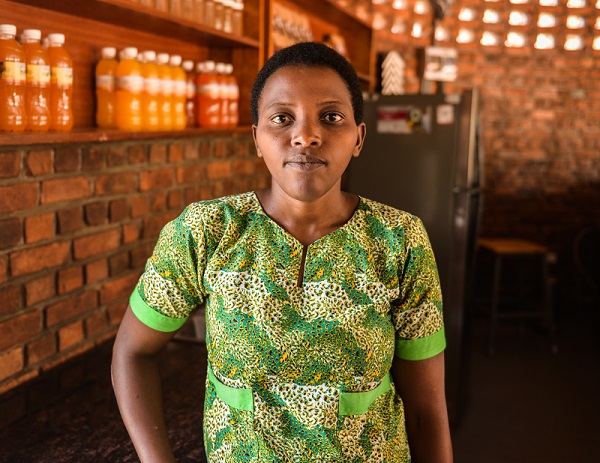 Marie Louise
My name is Marie Louise and I am 29-years-old. I lost my father and four of my siblings during the genocide. My surviving siblings and I were too young to help or support our mum and it was not easy.
As a child, I always wanted to have my own money, even in secondary school. I studied accountancy and then I got the opportunity to have three months training in hospitality with Women for Women International – Rwanda, followed by a three months internship in the kitchen, coffee shop and restaurant at the Women's Opportunity Centre.
Before this opportunity, I was studying. Once I completed secondary school, I went back to my village and was doing part-time jobs like teaching in primary schools and working in restaurants.
Now, I have been working in this coffee shop as an intern for three weeks and I love my new job. The training from Women for Women International has given me the tools to welcome customers, assist them, work in the coffee shop, and I am very happy to be able to do all that. Being at the Women's Opportunity Centre helps me to meet many people, it also makes me discover a lot of things that I did not see back home like coffee machines, different designs of cups/glasses and many other things. When I start to receive my salary, I will be able to meet my own needs as well as support my mother, who is 72-years-old.
Women for Women International should stay in Rwanda because they help many people to get jobs and they give people the skills and knowledge that enables people to improve their lives. They also taught me a vocation that I will use everywhere I work.
Five years from now, I want to have saved enough money to create my own business – a bakery in my village because they don't have one.
To my sponsor: I thank the sponsor who paid for me, despite the fact they didn't know me, the knowledge they allowed me to get is already paying off.