For more than 10 years, Women for Women International's team in Afghanistan has worked to engage male leaders in Nangarhar province through our men's engagement program. The province is among the most conservative and patriarchal regions where we work. 
Just a 40-minute drive from Pakistan, the influence of the Taliban is still felt in Nangarhar. Driving through the markets and streets to our training center, there are very few women in these public spaces, a stark contrast to Kabul. Just weeks after this interview, the Taliban closed several schools in the province, forcing 20,000 children to miss classes. As opportunities for education and social services have been diminished by decades of war, people turn to local leaders for advice and counsel on legal, religious, and social matters.
Ghulam Rabi, a local leader in Nangarhar, feels a deep responsibility to the 670 families in his community. At 52, Ghulam was one of 50 men in his community who participated in our men's training program in the fall of 2014. For several months, they met for two days each week to discuss women's rights, using the verses or "Surahs" of the Qur'an as a guide.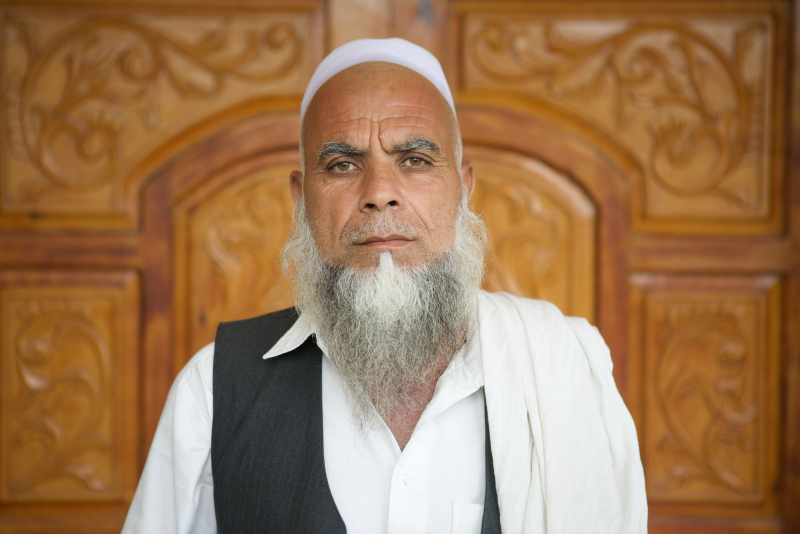 Ghulam Rabi is an elder in a community of 670 families outside of Jalalabad, Afghanistan. In 2014, he participated in Women for Women International's men's engagement program. Photo credit: Rada Akbar
Learning about Women's Rights in Islam
"We didn't know about these verses, and all the rights that women have in the Holy Book," says Ghulam. When he was younger, Ghulam had the chance to go to school, where he learned to recite the Qur'an in Arabic. Yet he, nor the other leaders in the community, ever studied the Qur'an from the perspective of women's rights. His education was cut short when the Russians invaded Afghanistan, and he was forced to leave school.
Before attending the program on men's engagement, Ghulam says he and other community leaders consulted with religious scholars when they had a question on how they should advise their community members. The scholars, however, only knew the Arabic transcript of the Qur'an. They didn't know the different ways to interpret the text, and how knowing the translations and definitions offers guidance that affirms women's rights.
"I believe that Islam is an open, bright religion, and has good rights for women," says Ghulam, reflecting on the lessons he and the other community leaders learned in the men's training program. With this knowledge, he feels better informed to advise his community.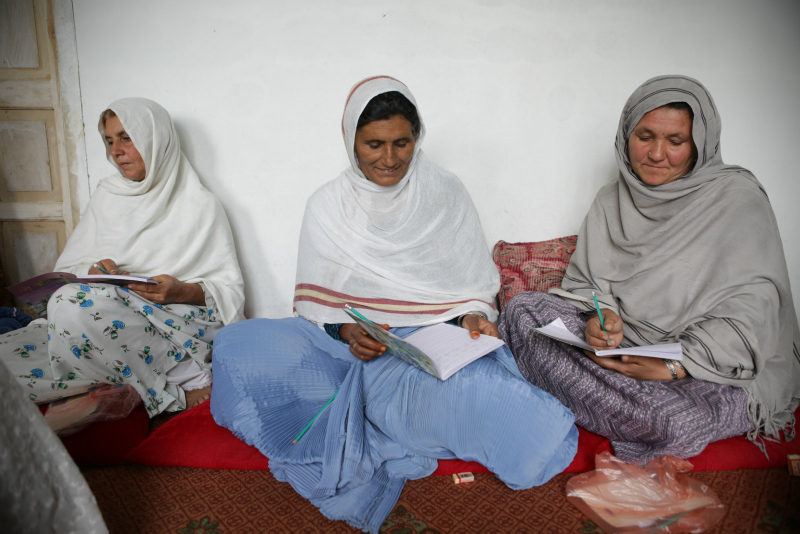 Outside of Jalalabad, women in the first few months of our program learn numeracy skills, a first-step to building the business skills they will need to earn and save money. In Afghanistan, 94 percent of the women we serve have never been to school, and 87 percent are innumerate. Photo credit: Rada Akbar
Confronting Community Challenges
Ghulam's face lights up as he shares how in the few months since starting the program, he has been taking what he learned to help his community.
"One thing we struggled with as a community, when we married or engaged our daughters, is that we would not ask them," he says. In Ghulam's community, there was a cultural practice of engaging a baby girl at birth to the boy she would marry when she was older. "We didn't know any different, and we thought this was part of our religion."
During the program, the men studied how the Qur'an supports the right of women to choose their own husbands, and how women should not be married as young girls. "Our trainers explained to us that marriage is not a matter of one or two days – but a matter of life. So if you are going to give your daughter to someone she doesn't know, she is going to spend all of her life with him. It is better to ask women about their choice and their decision about these things."

Shortly after Ghulam finished the men's program, a local man came to him to ask for advice. He was poor, and struggling to support his family, so he wanted to sell his daughter in marriage. The money would enable him to provide for his remaining family members, but would change his daughter's life forever. 
Before the training, Ghulam says he would have agreed with the man. But this time, he said, "No, you should not sell your daughter for money. And he listened to me."
Ghulam is also defending women's and girls' right to education, going against conservative religious scholars who advocate against it. 
"If men need education, women need education. If we need to know the rights of women, they should also know about their rights," says Ghulam.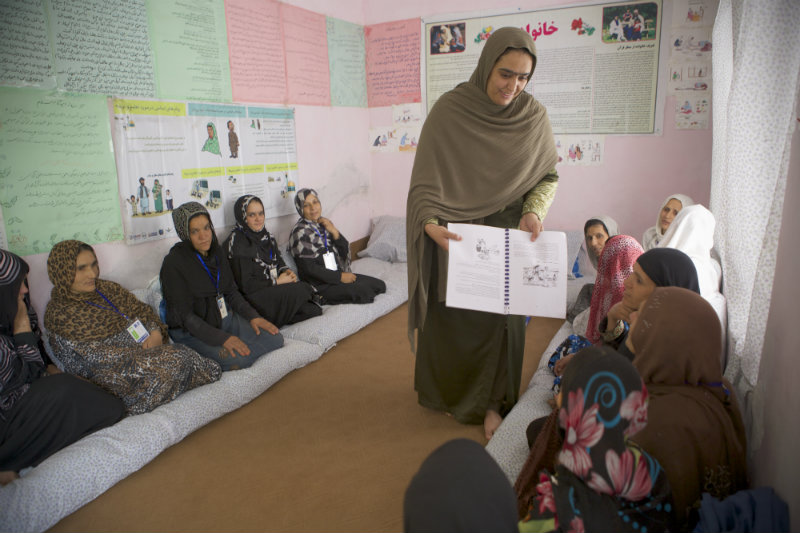 Women learn and discuss their rights in one of our training centers in Afghanistan. Photo credit: Rada Akbar
Violence against women was also a common problem in his community. Before the program, many men thought beating their wives and keeping them at home was in line with the teachings of Islam. "Which was totally the opposite," says Ghulam.
In his own family, Ghulam says he used to fight with his wife about her cooking, or why she showed her face to others. "But now, we don't treat [our wives] like we treated them before...even my wife asked me, 'Why have you suddenly changed?'" says Ghulam, with a smile. "I say it was because of the village's scholars and the program that we participated in." 
On the Path to Lasting Change
Ghulam often meets with the other men who were in the program with him, and together they talk about the impact they are seeing in their communities. "Sometimes we blame ourselves for what we were doing before, why we didn't have this information [about women's rights]." 
To create a  community where women's rights are respected, where all girls receive an education, and where child marriage is history, Ghulam knows that training 50 men is only a start.
"There are hundreds and thousands of men in the community...We should restart this program in our community, and we should invite more people and cover more areas. That would be really good for the community," he says.