At Women for Women International, we continually assess the impact of our program on the women we serve to ensure it meets women where they are, and helps them move towards achieving their goals and dreams.
At Women for Women International, we continually assess the impact of our program on the women we serve to ensure it meets women where they are, and helps them move towards achieving their goals and dreams. Based on findings from our Monitoring and Evaluation studies and feedback from our program participants and graduates, we have identified the following four issues to focus our program innovations.
Promoting Financial Inclusion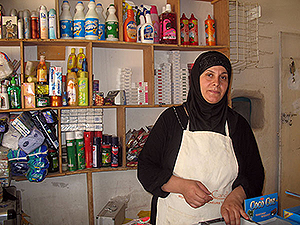 Economically disadvantaged women at the heart of our work are often the least served by banks and other financial institutions. When women gain access to financial products and services, they are more likely to start businesses, plan for major life events, and keep children in school. We provide participants with a monthly stipend throughout the yearlong program, promote savings habits, and connect women to microcredit providers.
In Rwanda and Nigeria, 100 percent of our participants opened bank accounts in 2012 for the first time, expanding financial services access to more than 13,000 women. With over 30,000 new participants globally each year, we believe there is an opportunity to expand women's access to savings, credit, and insurance. To achieve this, we are analyzing participants' access to financial services and identifying partnerships to help more women obtain bank accounts, save money, and access credit.
Advancing Women's Entrepreneurship
Women entrepreneurs are potential catalysts for innovation, job creation, and social mobility. They can have a profound impact on economic growth in developing countries. However, women face greater individual and structural challenges than men in starting and growing businesses.
Through various efforts, we connect women with advanced training to help them grow and scale promising businesses. For example, several of our graduates from Rwanda and the Democratic Republic of the Congo have joined the Goldman Sachs 10,000 Women initiative for advanced training and networks. In Iraq, we have developed an advanced business skills curriculum to train 75 women in the fundamentals of business operations, such as bookkeeping, sales, inventory, and marketing. In Rwanda, we are partnering with Sustainable Harvest to bring 3,500 women into the value chain for coffee production and other agricultural initiatives. Through these activities, we are creating a range of new vocational tracks to help graduates engage in more complex and lucrative sectors.
Increasing Access to Health Services
We believe that women's empowerment and their health status are intimately linked. Access to health information is a critical step in building women's confidence and increasing use of available health services. We are working to make it easier for our participants to access such health services, particularly in remote areas.
In Nigeria, we have partnered with two organizations to offer HIV counseling and testing to all of our participants in 2013. In partnership with the International Rescue Committee, we are linking women in eastern Democratic Republic of the Congo to medical and psychosocial support services provided by numerous local NGOs and CBOs. Going forward, we aim to put partnerships in place in each of our program countries to provide access to HIV counseling and testing for participants or to strengthen referral services for reproductive health.
Engaging Men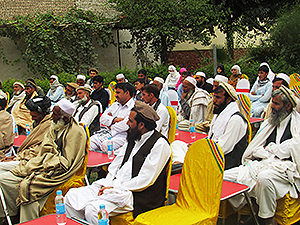 In Afghanistan, religious leaders graduate from
our men's engagement program and go on to
share the importance of respecting women's
rights with their communities.
Through nearly 20 years of helping women stand up for their rights, it is clear that a truly transformative shift in gender norms is only possible if we engage men as allies. In this effort, we have pioneered outreach to male community leaders in Afghanistan, the Democratic Republic of the Congo, and Nigeria to sensitize them to issues of sexual and gender-based violence, the value of women's work, reproductive health, girls' education, and women's contributions to peace and reconstruction efforts.
Over the past 10 years, we have reached over 7,500 men. This year, we are engaging 1,320 husbands and male relatives of our women participants in the DRC and work in partnership with ProMundo to pilot and evaluate a training curriculum for this target group. In Afghanistan, we are working with 150 religious leaders to tap their influence on community social norms and practices. In 2014, we plan to develop global targets and partnerships to ensure men around the world are trained on human rights, sexual and gender-based violence, reproductive health, and gender norms and roles.