Friba convinced her husband to continue his education by telling him she would refuse to marry him if he didn't study. He is now a teacher.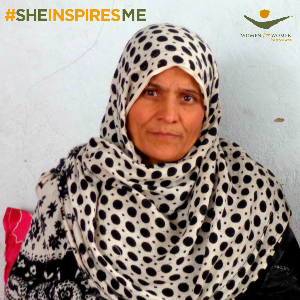 Friba, mother of Farial
"Uneducated women and girls are like the blind until they learn something," says Friba, the mother of five and current program participant in Afghanistan.
A passionate advocate for education, Friba has aspirations for her five children to be educated and successful in school. Her oldest son is already attending university, and her oldest daughter has graduated from high school and is awaiting the results of her university entrance exams.
Friba dreams of seeing her daughter attend university and one day and become a teacher like her father.  Her daughter, Farial, is also enrolled in the Women for Women International training program. Farial is gaining practical skills that will help her earn an income to support her family while she continues to make plans for her future.
Who inspires you? Share her story using #SheInspiresMe and #WfWI on Twitter, Facebook, and Instagram!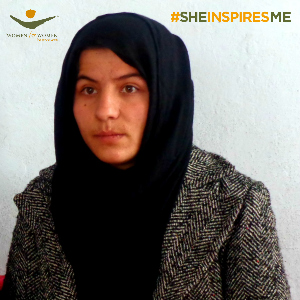 Farial, daughter of Friba
"My father is the only bread-winner for our family," Farial explains. "We all want to work to help support our mother and father. I am very happy that the center is here and we are provided with training. Here we learn. It is much better to learn something than to do nothing at home."
Friba and Farial have already learned new skills, like savings and investment, through the training program. Their group has also begun to learn basic business skills, like finding markets for their products. They will soon choose a vocational track and begin to learn a market-based skill.
Friba is interested in the poultry and cow-keeping trainings.
"We are farmers," Friba says. "Learning how to keep cows and poultry will help us in our daily lives and help us build our economy and overcome poverty."
"We are very thankful to have WfWI in our villages," Friba says.
Check out our #SheInspiresMe page for more stories about inspiring women around the world.