From WfWI trainer to Provincial Council Member in Parwan, Afghanistan, Hosai Bayani's unlikely journey demonstrates the impact women leaders are having on a changing country.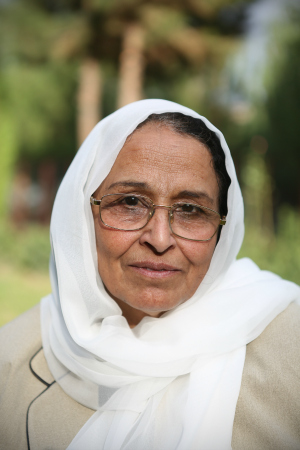 Hosai Bayani, Parwan Provincial Council
Member and former WfWI trainer
Photo credit: Rada Akbar, 2014
First elected as a Provincial Council Member in Parwan in 2009, Hosai Bayani won reelection in 2014, and serves as one of three women on the 15-member council. Across Afghanistan's 34 provinces, women hold 20 percent of all provincial council seats, a powerful opportunity to represent the people of their province, provide guidance and support for local governance and development, and advocate for critical issues.
"Those who participated in the election and voted for me – I try to work for them," says Bayani. In her first term in office, she worked on projects to bring paved roads to Bayan, to dig a well for drinking water, and to improve the water canal system in the city. She also worked in partnership with organizations like the Red Cross to provide tents for a local school.
An Advocate for Women
As a Provincial Council Member, Bayani also plays a more direct role helping women. Many have reached out to her for help, especially for personal issues they may be reluctant to take to law enforcement. Sometimes they call or send letters, either to her office or directly to her home. The problems they raise are similar, often involving physically violent husbands and drug addiction.
"I try to help or provide support to solve their problems," says Bayani. She registers cases with a local advocacy office of the Department of Women's Affairs. In her first four years in office, she helped more than 200 women access a local shelter. "But I also tried to solve their problem at home, with the help of community and family elders […]. They trust me and would accept my advice."
Bayani remembers one young girl who recently came to her for help. Several years ago, the girl's mother had been killed by a family member, and she left to live with her mother's father. When she turned 15, a cousin proposed to her, but before her grandfather agreed to the marriage, her father suddenly reappeared, wanting to take the girl back to the home where her mother had been murdered. Terrified she would be killed or sold if she left, the girl contacted Bayani.
"We interrupted the case and prevented the girl from having to go back to the village," says Bayani. They advised the girl's grandfather to allow her to marry her cousin instead, and convinced him to postpone the wedding until she reached the legal age of 18. "Last year she turned 18 and married her cousin. Now she has a very good life," says Bayani.
>>See how others in Afghanistan are also working to support women's rights.<<
Inspired by Women to Run for Office
Women learn about their rights in a WfWI life
skills class in Parwan, Afghanistan
Photo credit: Rada Akbar, 2014
Bayani's journey to public office began more than 10 years ago, when she joined Women for Women International's program in Parwan. After two months, she realized she had the passion and ability to become a trainer with WfWI, and was soon hired to lead her own classes over the next two years.
Being in the program and then working directly with the most marginalized women in her community gave her a new view of the challenges they face. "When I joined Women for Women, I knew women were living with violence, but I didn't understand its full impact," says Bayani. Through the program, she heard women talk about the challenges they faced, from forced and early marriage to other forms of violence. It sparked a passion to help women that continues today.
Bayani spent several years working as the Deputy Director for the Department of Women's Council for the Ministry of Women's Affairs in Parwan. Having the opportunity to support women in her community motivated her to run for office seven years ago. She credits her election victory to the votes and support she received from women in the province.
"Women encouraged me to apply for the provincial council," says Bayani. "I have the support of women in the [WfWI] program and their families. All the women trust me and know me."
Determined to Strengthen her Province
Since winning reelection in 2014, Bayani is continually looking for ways she can help improve her province and respond to the needs of her constituents. She is focused on infrastructure projects, such as paving the roads between villages in the province and improving access to drinking water and electricity. Bayani is also looking for opportunities to improve women's lives throughout the province.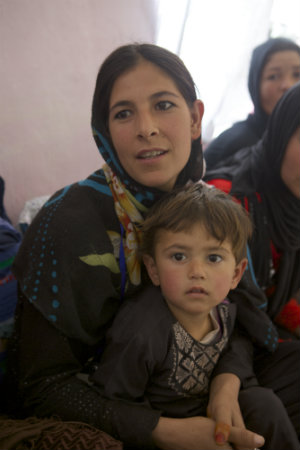 A young mother participates in a WfWI
life skills class in Parwan.
Photo credit: Rada Akbar, 2014
"Clinics are a big issue in some districts, especially for women who face child delivery at night," she says. "It is very important to solve these mothers' problems with the building of a clinic." She is also exploring ways to sustain women's empowerment in her province and provide local services, such as building a funeral home for women and connecting women with other government departments and services. For Bayani, strengthening women is about focusing on the needs of the whole community.
"When you increase the level of knowledge of women and their family and improve security and the economy throughout the country, then this can bring changes to Afghan women's lives." Looking to the future, she says, "I wish for peace all over the country. For our people to have jobs, for students to go to schools and universities. This is my happiness, that all people of Afghanistan have a secure life."
>> Hosai Bayani is one of more than 102,000 women who have been part of WfWI's program in Afghanistan since 2002. Learn more about our work in Afghanistan. <<