WfWI's Director of Program Design and Development, Anna Mecagni, recently met with participants in our training centers in Parwan, Afghanistan and shares her reflections on her visit.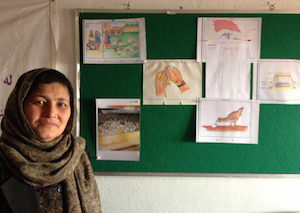 I quietly enter the classroom in the Women for Women International training center in Parwan, Afghanistan — a small town located an hour and a half outside Kabul.  Making every effort to not interrupt the lively discussion, my colleague begins to translate from Dari, the local language, into English.
The women gesture for me to join, encouraging me to participate in their conversation as they identify various marketplaces to sell products. My colleague and I join the circle, and together we sit with 25 Afghan women on brightly colored cushions around the edges of the classroom. Inspiring posters with images and symbols conveying the importance of education, women's rights, and numbers fill the walls. The atmosphere here is safe and supportive.
For twelve years, Women for Women International's Afghanistan program has developed strong relationships with community leaders to promote access and support for women's education to life-changing resources, health information about nutrition and wellness, as well as important income-generating skills.
My colleague is an instrumental part of the team as the Life Skills Coordinator. On this day, she is my bridge to these vibrant and strong women, and our spirited discussion turns to my questions. As I ask how the experiences and outlook for each has been impacted by their enrollment, my colleague carefully translates.
Within seconds, I am humbled by their courage and resilience.  As each sister shares her unique story, one common thread appears – our program was their very first opportunity to access a formal classroom.
The freedom that comes with knowledge is a theme each woman speaks of from a personal place. How learning numbers brings the ability to use a mobile phone to call friends and family; to the powerful experience of being able to write and sign one's name on wedding contracts or reports — each share how they are using new skills to strengthen their family and bring greater security with income and knowledge of their rights.
Beyond family, they share the importance of being together, working together — the solidarity that flows from the classroom provides strength to try new things and to be part of the reconciliation and rebuilding.  Their determination is a reminder of what is at stake in Afghanistan if the political instability and wide-scale conflict return.
There is a palpable exhaustion and fatigue with war and fear that this extends beyond their borders.
"We used to hear the planes and start to get ready to run away. Now, we hear the planes and we are tired.  We are tired of war.  We are ready for peace," said Mahtop as her sisters nodded their heads in agreement.
The women share fears of a deteriorating security situation, the negative impact of international support leaving, and a downturn in the economy. After three decades of conflict, they want nothing more than peace and stability in Afghanistan. Without it, they cannot build a better life for themselves and their families.
As the April 5th national elections near, the women ask questions about the future of the Women for Women International program. I use this time to underscore WfWI's deep commitment to continuing to serve women here during and after the military withdrawal. I share our approach and offer lessons from our ongoing programs in Bosnia and Herzegovina, Rwanda, South Sudan, and Kosovo.
They express appreciation for the candor and the reassurance that regardless of others in the international community, Women for Women International remains committed to their progress. The women's determination to start something for themselves – a small chicken farm, a home-based tailoring shop, an embroidery cooperative – fills me with optimism. Their voices and stories stay with me every day and motivate me to support our teams on the ground around the world meeting women where they are today. The future is hopeful because these strong resilient woman are the foundation.
Learn more about how you can become involved in Women for Women International's work in Afghanistan. Sponsor a Sister