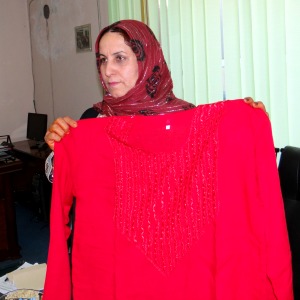 Zarghuna showing a garment made
in her factory in Kabul. 
On the dusty streets of Kabul 15 years ago, Zarghuna made pennies each day selling small handcrafts, her only means to support herself and her child. Like many of the women enrolled in our program, Zarghuna encountered barriers from an early age that limited her ability to earn a sustainable income. A child bride at age 6, Zarghuna was widowed at 16 and found herself alone and unable to provide for her family. 
Over the past 20 years, we have reached out to women like Zarghuna to connect them with resources and skills to create economic opportunities and transform their lives. Through our programs, women learn numeracy and bookkeeping skills to calculate profits and losses. They develop a vocational skill with earning power in their markets, and the business skills needed to make their work profitable. With a monthly stipend, women begin saving for the future and access microcredit. Together, they join their strength through savings circles and cooperatives.
Through our program, Zarghuna gained the skills and self-confidence to start an embroidery business. Today, she co-owns a thriving embroidery factory in Kabul that employs 20 women on site and an additional 300 women who work from their homes. Her business generates profits of $5,000 per month.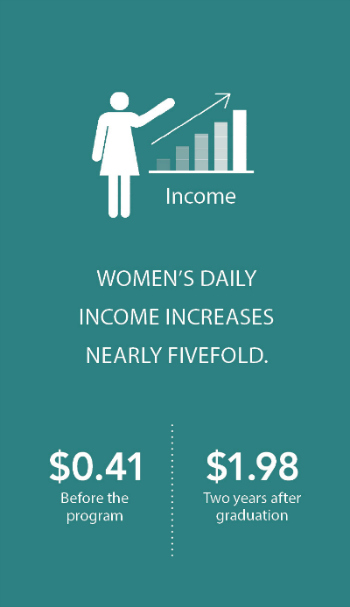 See footnote 1.
How We Do It
Zarghuna's story is exceptional, yet the journeys of other women in our program are no less remarkable. Within two years of finishing our program, women's earnings are five times greater than when they started, enabling them to provide for their families and to strengthen their local economy. Here are a few of the ways we help women develop greater economic empowerment. 
Monthly Stipends
Over the course of our yearlong program, each participant receives a monthly stipend that enables her to address some of her family's immediate needs and establish savings. 
Numeracy Training
Nearly 1 in 5 of our participants is innumerate. In places like Afghanistan and the Democratic Republic of the Congo, numeracy training transforms women's lives, enabling them to write a friend's phone number or balance business accounts. 
Establishing Cooperatives
In the Democratic Republic of the Congo and Rwanda, our trainers provide ongoing support to groups of women establishing cooperatives, providing technical assistance and guidance on officially registering with local government entities. 
Connecting to Financial Institutions
In Nigeria, Rwanda, and Kosovo, we are connecting participants with bank accounts, providing new opportunities to save and borrow money to invest in their businesses. 
Job Placement
In Kosovo, our participants earn an average of $0.02 per day when they enroll, and often find it hard to get a job in Kosovo's struggling economy after graduation. In 2012, we established a Job Placement Office, which has connected 327 women with jobs from 220 employers. 
Increasing Skills and Value of Products
In 2013, we began a new partnership initiative with Bloomberg Philanthropies to improve women's access to markets and employment. Over the next three years, we are providing 40,000 women in Rwanda and the Democratic Republic of the Congo with workforce training. 
Women's Opportunity Centre
To promote long-term economic development and provide ongoing resources to graduates, we opened a Women's Opportunity Centre in Rwanda in June 2013. To learn more about our Women's Opportunity Centre, click here. 
1. This analysis includes participants who were enrolled between October 2009 - October 2010. Data are self-reported at enrollment, graduation, one-year post-graduation, and two years post-graduation. Only participants who were surveyed at all four of these points in time are included in this analysis. Scientifically establishing cause and effect with respect to any program is an involved effort that takes place over years. WfWI's Monitoring, Research, and Evaluation team is engaged in ongoing efforts to establish the effects of our programs more definitively.