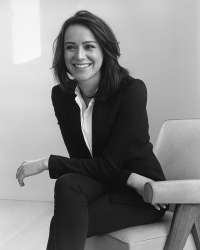 Alex Eagle is driven by a fascination for timeless objects and fashion that eschews trends, rather focusing on provenance and expertly crafted design.
Honed by a career spanning magazines and fashion PR, Eagle's eye and passion for original and masterfully made items has created the distinctive ethos of the Alex Eagle Studio. Combing elements of a gallery and retail experience, the space was conceived as an intimate and domestic setting to allow shoppers to wander and be inspired by a curated edit of the best fashion, furniture, art, design, photography, ceramics, rare books and other unique curiosities.
A desire for beautifully made things designed to last inspired Alex to launch an eponymous capsule collection of seasonless, timeless garments that work as their own luxurious uniform or in harmony with an existing wardrobe. The menswear-inspired line has borne a series of collaborations with specialist artisan and designers, such as luggage maker Swaine Adeney Brigg and Jermyn Street tailor New & Lingwood.
In addition, Eagle is the creative director of The Store x Soho House Berlin, a 30,000 square foot retail and concept work space she conceived to express a comprehensive lifestyle experience. The flagship launched in Berlin in January 2015 in collaboration with Soho House, and in October 2016 a second space, The Store x Soho Farmhouse, opened in the Cotswolds. Soon to open in London, The Store x 180 The Strand.