Women for Women International launches its first ever recipe book. 100% of the publisher's profits will go to Women for Women International and help women in war-torn countries rebuild their lives.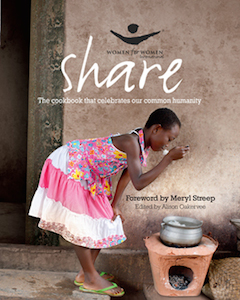 Nothing conveys our interdependence more compellingly than the food we eat. It builds our physical resilience, brings us joy, and strengthens our bonds with family and friends.
The recipes in this uplifting book celebrate this truth. They come from the women living in the war-torn countries where we operate and also from renowned international chefs such as Alice Waters, Maggie Beer, Rene Redzepi and Hugh Fearnley-Whittingstall, and humanitarians such as Aung San Suu Kyi, Nelson Mandela, Christiane Amanpour, Desmond Tutu, Emma Thompson, Judi Dench, Richard Branson, Annie Lennox, Paul McCartney and Mia Farrow. The foreword was written by Meryl Streep.
Illustrated with stunning photography of the countries as well as the food, they cover everyday dishes, family meals, and recipes perfect for sharing and celebrating. The over 100 recipes range from traditional Afghani bichak pastries and Congolese sticky doughnuts, to sweet-potato-topped salmon, Thai fish curry and cheese and leek tart. Interspersed throughout are inspiring stories from the women whose lives have been changed through Women for Women International.