Edita Veseli, a Life Skills manager for WfWI-Kosovo, shares the story of how women in the program inspire her and each other.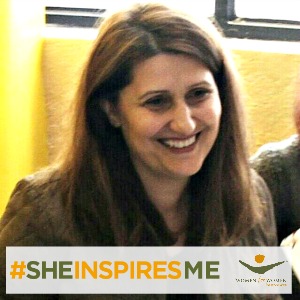 Edita Veseli, WfWI-Kosovo Life
Skills Manager
Over the years I have gathered so much inspiration and strength in so many different ways from every woman I have encountered. When I was asked to share a story about a woman who inspires me, I immediately thought of Emine, who found her own voice after being inspired by another woman's courage.
At the end of a recent life skills training session in Pristina, Emine asked for permission to speak to the group. Emine is 41 years old, and is married with three children – two daughters and a son. Even though her home is nearly 40km from the training center, she faithfully attends all of the training sessions. She spoke so softly that I could barely hear her, but she stood up and walked to the front of the room, where she told us how she was inspired by a woman named Hava.
Who inspires you? Share her story using #SheInspiresMe and #WfWI on Twitter, Facebook, and Instagram. 
Hava had been invited to come speak to Emine's training group earlier in the year. She told her story of escaping over the mountains to Albania during the war, and returning afterward to find that her family's home had been destroyed along with most of the rest of their village. The factory where her husband had worked before the war closed, and the family was forced to start growing their own food for sustenance. When she heard about the WfWI training program from her sister, she was determined to join and invited the other women in her village to enroll with her. Today she has a small dairy farm and is putting all five of her children through school. She is also the founder and leader of a women's association that takes on community service projects in the area where they live.
Emine explained how she had been amazed by Hava's strength to face and overcome all the challenges in her life, and then to stand up as a role model for other women. After hearing Hava's story, Emine was so inspired that she went home and wrote a 10-page essay about everything she had learned from listening to Hava. She wanted to read us her essay now. "I used to think of myself as just a simple housewife," she said. "Now I have the strength and courage to change my life."
As we listened to Emine read her words, we were moved by her deep and emotional connection to Hava's story and amazed at her courage to speak. When she finished, we encouraged her to keep writing and to keep sharing – because now she will be an inspiration to others, just as Hava was an inspiration to her.
I am inspired by both Emine and Hava. I feel so lucky and proud that at WfWI we get to help women find their voices, and the courage to speak and change their lives.
Check out our #SheInspiresMe page for more stories about inspiring women around the world.
>> Read an interview with Edita Veseli and WfWI-Kosovo graduate Violeta Mulaj on KosovaLive360. <<