Why does Women for Women International work with men? As early innovators of programs to engage men, we know that for women to achieve full equality, men have a critical role to play.
"It began with the women," said Julianna Lindsey, Vice President of Programs. "The reason we started engaging men is the feedback we received from program participants. They told us that learning about women's rights, reproductive health, and gender-based violence was so important to their lives, but that men needed to hear this message too."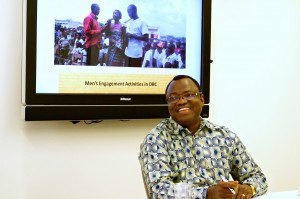 To increase awareness on how men contribute to women's empowerment, Women for Women International held a seminar in its Washington, DC office on April 10th. The session featured special guest Jeremie Ouangrawa, WfWI's former Country Director for the Democratic Republic of the Congo. Sharing lessons with WfWI staff and practitioners from organizations like ICRW, CARE USA, and UNICEF USA, Ouangrawa discussed why engaging men can promote women's equality.
"Men are part of the problem," said Ouangrawa. "But men are very much part of the solution. Many men are concerned about the violence and inequalities in their communities, and want to end it."
Since its first men's engagement program in 2002 in Nigeria, WfWI has championed men's role in supporting opportunities and access for women. Today, WfWI has reached over 7,500 men through innovative programs in Afghanistan, Nigeria, and the Democratic Republic of the Congo.
WfWI's men's engagement programs transform relationships and challenge ingrained practices and beliefs. They create an opportunity for men to understand how inequality and abuse hold women back and harm the entire community. This fosters a dialogue between men and women to develop solutions.
During the seminar, some asked whether violence against women is increasing or has cultural ties. "Rising family violence is common during times of conflict and economic insecurity," noted Lindsey, as she recognized the links between the well- being of individuals and of society. "As individuals face extremely stressful circumstances, violence becomes normalized."
"As a result of the program in the DRC, men report they are better able to deal with frustration and control aggression," added Ouangrawa. "They decrease family stress, improve their relationships with their wives, and share more of their income with them. Ninety percent talk with other men about ending gender-based violence."
One male participant in the DRC explained the personal impact of the program: "I regret all the years I was like a lion, drinking and beating my wife and not taking care of our family. I have asked her to forgive all the bad things I did to her. Now we talk, share and live in peace."
The programs cover topics like sexual and gender-based violence, the value of women's work, girls' education, reproductive health, and women's contributions to peace-building. Topics like family planning can be taboo in places like the DRC, noted Ouangrawa. "The program creates a space for men to discuss these issues in a constructive way, and inspires them to have these same conversations with their wives."
For years, WfWI's men's engagement programs have focused on outreach to male community leaders, including law enforcement and traditional, religious, and civic leaders, who can use their influence to promote greater respect for women's rights.
As it works to continually enhance its men's engagement programs, WfWI recently began outreach to the husbands and male relatives of program participants. In the DRC alone, WfWI will train 1,200 male family members this year, in partnership with ProMundo. This new effort to reach male relatives helps support women as they go through the yearlong program and beyond – as they work to achieve their goals and create healthier family environments for their children and stronger, more equitable communities.