"There are two Afghanistans – one dominated by the headlines of violence and the other captured in the untold stories and actions of courageous activists and everyday Afghans working to rebuild," shared Pulitzer-Prize-winning journalist David Rohde during Women for Women International's seventh annual luncheon in New York.
Rohde's reflections surprised many. 
In 2008 during his last tour to Kabul as a foreign correspondent for the New York Times, Rohde embarked on what he had planned to be his last in-person interview with a Taliban leader before heading home to start a new chapter in his life with his new wife, magazine photo editor Kristen Mulvihill. 
Instead, Rohde along with his Afghan translators were kidnapped and held in captivity for seven months until their harrowing escape.
In a provocative conversation, Rohde and Mulvihill joined Afghan activist Noorjahan Akbar in a discussion moderated by veteran journalist and advisor to the Paley Center, Pat Mitchell.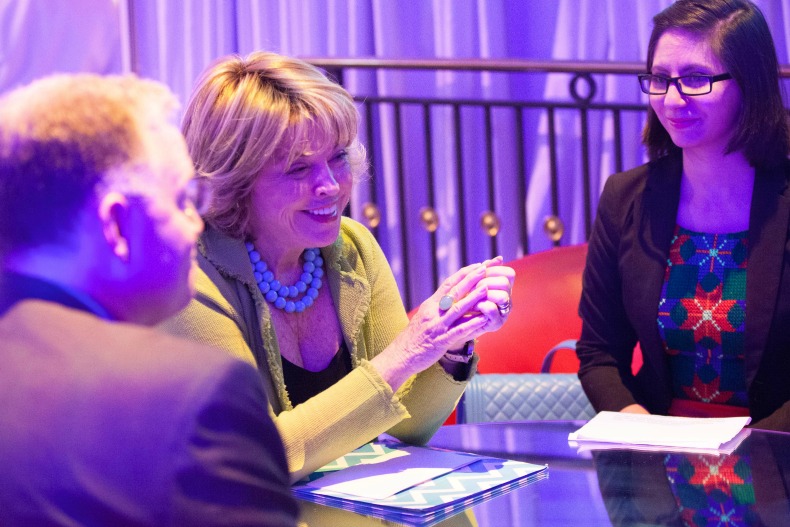 David Rohde, Pat Mitchell, and Noorjahan Akbar at Women for Women International's 7th annual New York luncheon.
Understanding the Threats
See our slideshow of photos from the event. 1 2 3 4 5 6 7 8 9
The panel began with Rohde and Mulvihill describing the events that led to his kidnapping detailed in their book, A Rope and a Prayer. As Rohde was held hostage for seven months, both he and Mulvihill came to understand the challenges facing Afghans in a new way.
"It made me feel more for the Afghans who are risking their lives for their future," reflected Rohde on the threats groups like the Taliban pose for Afghans working to build a more democratic, peaceful country.
As Mulvihill tried to secure her husband's release from their home in the United States, she recounted how she received letters and photographs from Afghans expressing their support for her and depicting the beauty of their country. The message was the same: "not all Afghans are like this."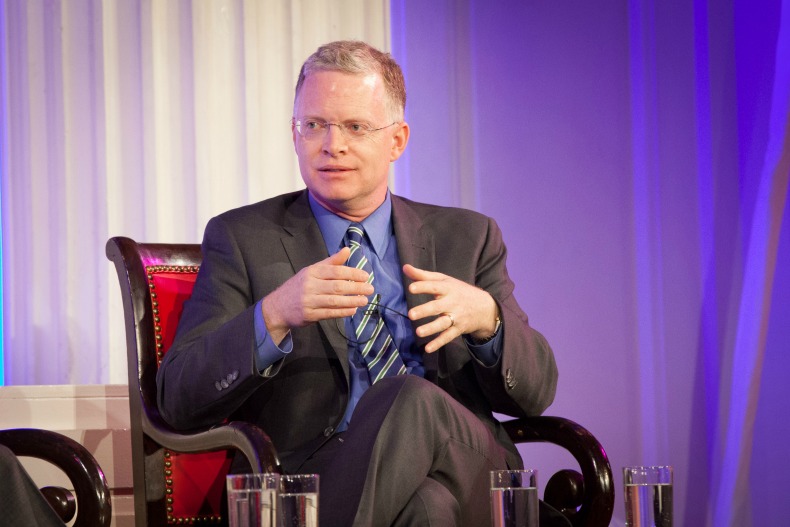 "It made me feel more for the Afghans who are risking their lives for their future," reflected David Rohde on the threats posed by groups like the Taliban.
>> Check out Rohde and Mulvihill's book, A Rope and a Prayer, and read the New York Times review. <<
The Power of Women to Build a New Future
"Afghanistan is not what the Taliban wants it to be," agreed Akbar. An activist and blogger for gender equality, she explained how young adults in Afghanistan want to make the country a more equitable, just society.
"I have seen firsthand how young people are taking actions to change Afghanistan. We are a nation of millennials – 70 percent of Afghans are under the age of 30. We are thirsty for knowledge, thirsty for jobs and opportunity," shared Akbar.
Citing polling data by the Asia Foundation, Akbar cautioned against viewing her point of view as exceptional, sharing that "96 percent of Afghans agree that men and women should have access to equal education."
"Most people don't realize this," she acknowledged, particularly in light of the stories of attacks on women, like the mob killing of 27-year-old Farkhunda in Kabul on March 19. The lynching sparked local and global outrage, and galvanized women and men to come together to condemn the attack and demand that the perpetrators be brought to justice.
As Farkhunda's killing has forced Afghan civil society into action, Akbar said that for women, defining their rights and their role is not about creating a new model, as much as "getting back to our roots."
Citing numerous women from Afghanistan's history whose actions have moved the country forward, she explained that Afghan women have and will continue to play an important role in shaping their future.  Underscoring the progress underway, Akbar highlighted that today more than one-third of all teachers in the country are women, compared to the absence of women in schools in 2001 under Taliban rule.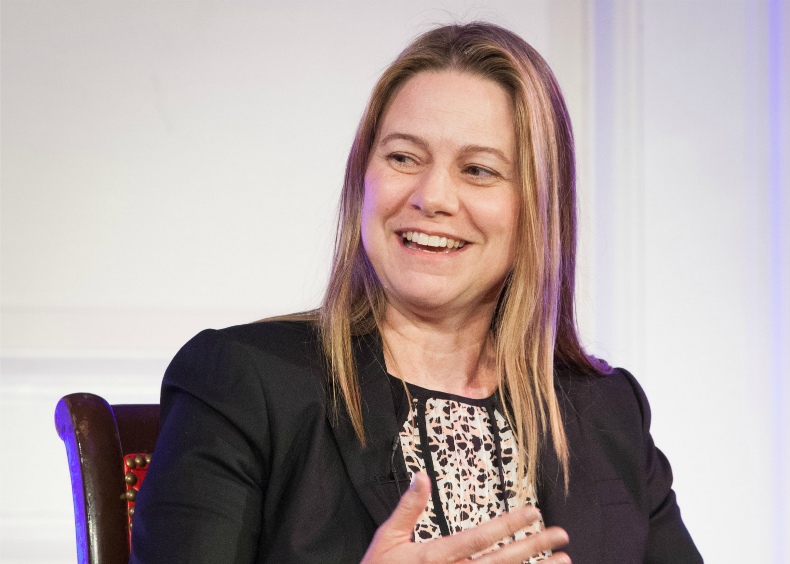 Recalling the numerous letters of support she received from Afghans during her husband's kidnapping, Kristen Mulvihill explained the message was the same: "not all Afghans are like this."
Shifting the Narrative on Afghan Women
Mulvihill reflected on the power of images to distort reality in the West. The panelists shared how the narratives told about Afghanistan in the Western media fail to reflect the whole story. Perhaps most disturbing, the media focus on violence and conflict misses the important stories of the strong women who are reshaping their country and marginalizes their voices and value.
"By focusing on violent images of Afghanistan, we make it seem like the women's words, their pens, and their cameras are not as important," said Akbar, as she advocated for stronger media coverage of women that departs from the current portrayal of women as powerless victims.  
"Women can be the change agents for Afghanistan's future," added Mitchell, while the panel agreed that organizations like Women for Women International play an important role in providing the critical support and tools women need to shape that future. "Empowering women through education and economic empowerment is essential," said Akbar. "It can be a revolution." 
The discussion ended with a powerful slideshow of images of Women for Women International's training program in Afghanistan. The photographs reflected the kinds of stories the panelists agreed are needed most: stories of women's strength, courage, and determination to move forward and create opportunities and hope for their families, communities, and country.
Watch the slideshow of photographs taken by Noorjahan's sister, Rada Akbar, of Women for Women International's programs and graduates in Afghanistan: