One year after 276 girls were kidnapped from their school in Chibok, Nigeria, WfWI-Nigeria Country Director Ngozi Eze reflects on the current situation and what can be done. 
Ngozi Eze discusses the kidnapping with Kay Burley on Sky News earlier this year.
One year (364 days) has passed since 276 girls were kidnapped from their school in Chibok by Boko Haram. A lucky few, like Asabe and Ruth, escaped and returned to school. But most of the girls are still missing. We do not know where they are, what suffering they have endured, or even whether they are still alive. 
Here in Nigeria, we are frustrated that our girls have not been brought back, and we do not like to imagine what they may have suffered: forced labour, forced marriage, or worse. 
The #BringBackOurGirls social media campaign brought this mass kidnapping to the world's attention this time last year. But did you know that many more women and children have been kidnapped by Boko Haram since the Chibok incident?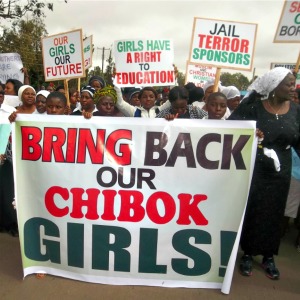 Where extremism takes root, individual freedoms and rights suffer, and women's freedoms are often worst affected. But extremist violence is not the only challenge facing women in Nigeria. Poor and vulnerable women across the country face multiple issues: rape, denial of their inheritance rights, son preference, illiteracy, and denial of their rights, including accessing affordable health care and justice. 
This is why Women for Women International provides an holistic 12 month program, which includes rights and leadership training. By teaching the most vulnerable women about their rights, health, business and vocational skills, WfWI supports women survivors of war to rebuild their lives.
I ask the international community and Women for Women International supporters to stand in solidarity with Nigerians and help us ensure that violence against women and girls is stopped. 
Ngozi Eze is Country Director of Women for Women International – Nigeria. 
To learn more about our work in Nigeria, click here.