Over the past year, more than 37,000 women have begun to rebuild their lives thanks to your support. Below we're sharing the stories of five of these inspiring women and the many things they say they're thankful for this year. 
From our family to yours, Happy Thanksgiving and thank you for supporting women around the world!
Chantal is grateful she can support her family.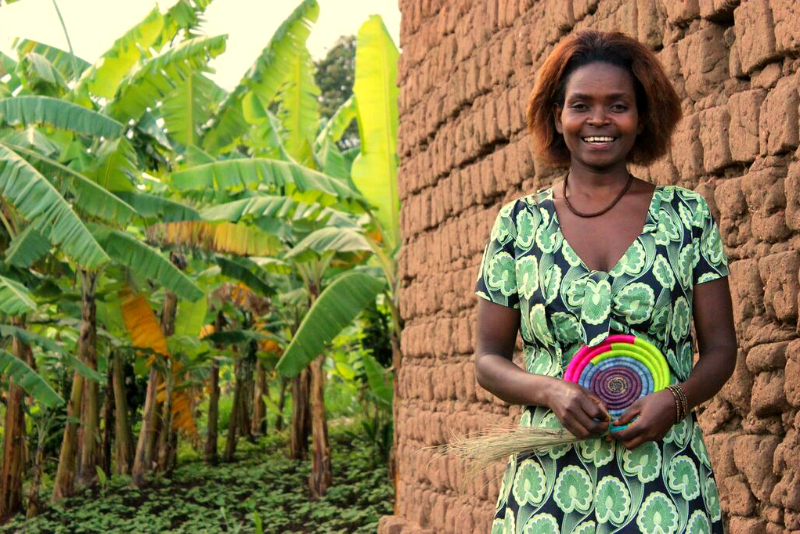 Photo credit: Women for Women International
Chantal, 31, is the head of a cooperative of women who make and sell handicrafts in Rwanda. She also works on her family's land to produce and sell beans and other vegetables. Recently, Chantal was able to use her stipend from WfWI-Rwanda trainings to buy a baby pig. She uses the manure to fertilize her land and has been able to increase her crop and income. Chantal is thankful because she is able to pay for her family's needs and stand on her own feet, but her income has given her more than that. She is also more confident now.
"Before I was isolated. But now I meet a lot of people. I now no longer wait for my husband to give me money."
At WfWI-Rwanda trainings, Chantal learned the importance of saving, managing her money, and marketing her products. She is very proud to earn money and have her own business card.
>> Give a gift that helps other women like Chantal support their families! <<
Mukunde is grateful for her bicycle.
Photo credit: Women for Women International
Mukunde is a 40-year-old farmer and entrepreneur in South Kivu, Democratic Republic of the Congo. She supports her four children by selling handmade soap and crops from her small piece of land. After going through WfWI's program she has been able to better meet her family's needs, invest in her children's education, and afford more nutritious meals. Mukunde says a driver of her success is her new bicycle, which she bought with her training stipend. She uses her bicycle for transportation and as a taxi. The bicycle has allowed her to save time while making trips to the market to sell her products and make money by giving others in her neighborhood rides in exchange for money. Munkunde is thankful for the ways in which the bicycle has improved her life.
"With the income earned by the bicycle, all my children go to school. They are fed, getting clothes, and schooled," Mukunde says.
>> Help other women take to the streets on their own bicycles! <<
Agnes is grateful for her goats.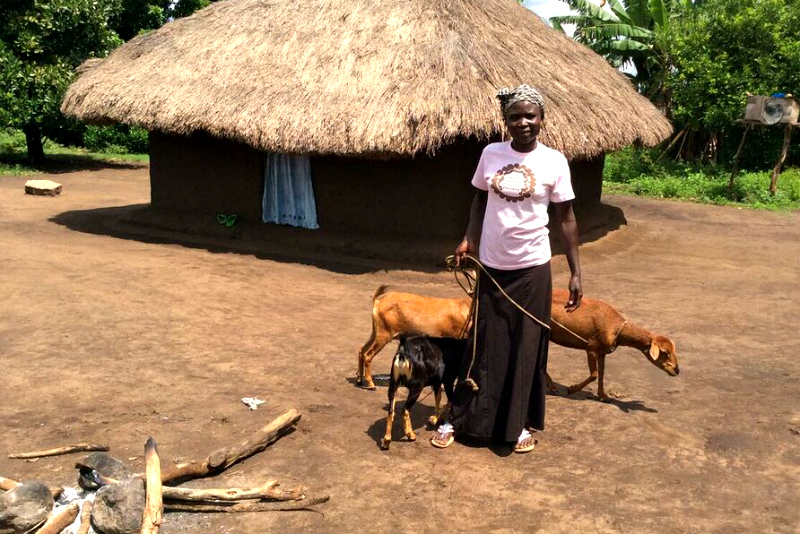 Photo credit: Women for Women International
Agnes is 33 years old and the mother of five children in South Sudan. She is a busy woman. Agnes farms vegetables, runs a small restaurant where she sells tea and food, and raises goats for sale. Given the unstable economy of her country, Agnes is grateful to have goats that both provide for her family and are a source of savings for emergency situations.
"I am now able pay for medication, provide food and school fees through the sale of the goats," Agnes says.
The goats have done more than provide Agnes with an income; they have also brought her entire family together. Her son and mother help her take care of the goats and the improved financial situation has made her family happier.
Agnes hopes to save enough money from selling her goats to buy a plot of commercial land and expand her small restaurant next year.
"Owning an animal has changed my view of the future," she says.
>> Support our Gifts That Give Back campaign to raise 500 goats in 5 days! << 
Zhal is grateful for her vegetable garden.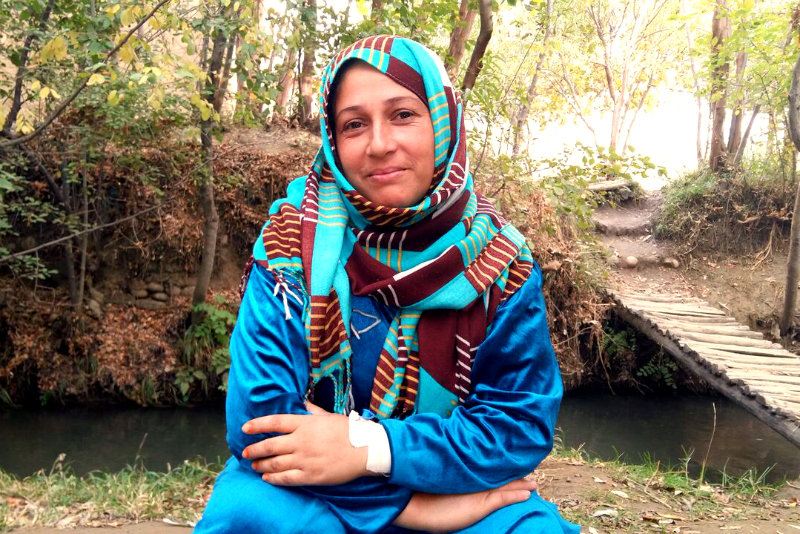 Photo credit: Women for Women International 
Zhal is a 35-year-old mother of five children. She lives in a poor area in Kapisa, Afghanistan. Her husband is a farmer who leases land to grow crops. After graduating from WfWI-Afghanistan's training program, Zhal has been able to contribute to her family's income. Using a small plot of land near her house, Zhal grows onions, tomatoes, eggplants, and green beans and sells them in the local market. She also has a goat that she uses to sell dairy products to the market. During her training at WfWI, Zhal learned the importance of saving money and animal husbandry skills. Now, she wants to save enough money to buy herself a cow so she can sell more milk, butter, cheese, and other dairy products and help move her family out of poverty. She also hopes that with her savings she can buy chickens to provide fresh eggs to her children. Zhal is thankful for her vegetable garden and for the skills she has learned at WfWI.
"I feel that I am a new person with new ideas and new plans," she says.
>> Gift a gardening basket and vegetable seeds to women like Zhal through our Gifts That Give Back campaign! << 
Mary is grateful for her supportive father.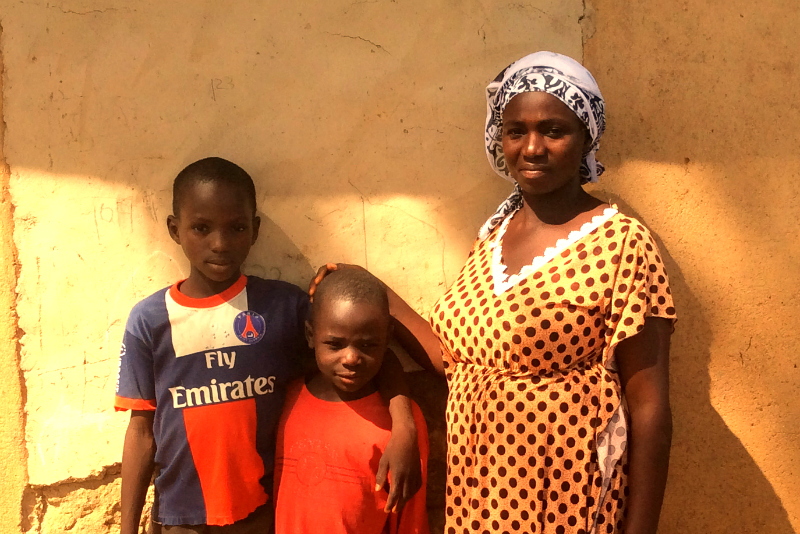 Photo credit: Women for Women International
Mary, 38, lives in Nigeria and is a mother of six children. After her husband abandoned her several years ago, Mary moved into her late brother's mud house and started a small business to buy and sell grains in her neighborhood. Later, she joined WfWI-Nigeria's training program where she learned business and numeracy skills and animal husbandry. In 2014, a friend of Mary's father gave her a goat. She was also able to buy another goat using her WfWI stipend. Now she has four goats. The goats have given Mary financial security and peace of mind because she can sell them if one of her children gets sick or if she needs emergency funds. But the goats have also given her joy and confidence.
"It means a lot to me. At least I have something to call my own for the first time."
Mary is thankful to her father who helps her take care of the goats.
"My father helps me in taking the goats out of the house every morning. Sometimes, he also brings grass from his farm on his way back home," she says.