This Giving Tuesday, six WfWI graduates want to tell you how owning a goat has udderly changed their lives! Enjoy our billyant goat puns and these inspiring stories as our gift to you. And give a goat through our Gifts That Give Back Campaign to help even more women build a new future for their families. 
Mary Is Grabbing Life by the Horns!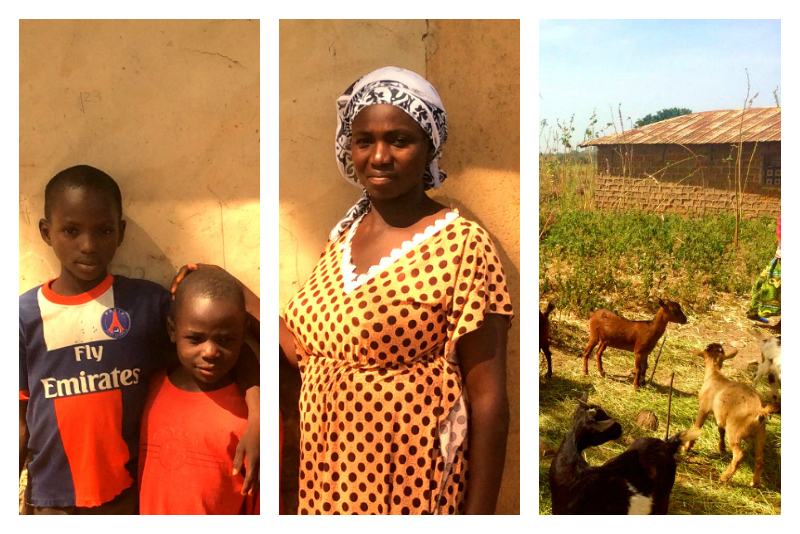 Photo credit: Women for Women International
Ask Mary what was the most significant event in her life this year, and she'll say, "Me buying a goat! It was so amazing to count my own money to buy one." After her husband left five years ago, Mary struggled to support her six children. But buying a goat changed that. "It means a lot to me…I have something to call my own for the first time."
Mary used her monthly stipend from WfWI-Nigeria's program to buy a goat, and today, she has four goats that she raises using skills from WfWI's program. 
"I can fatten them and identify when the goats are in heat, sick, and need vaccination. I can now sell them anytime the need arises to solve pressing needs." She's also planning to use her goats as an investment in her family's future.
"I hope to sell some of the goats next year to pay my son's Senior Secondary school certificate examination registration fees." After this test, he'll have the chance to go to college.
>> You've goat the power to help women like Mary! Support our Gifts that Give Back campaign today! <<
Zhal's Goat a New Business!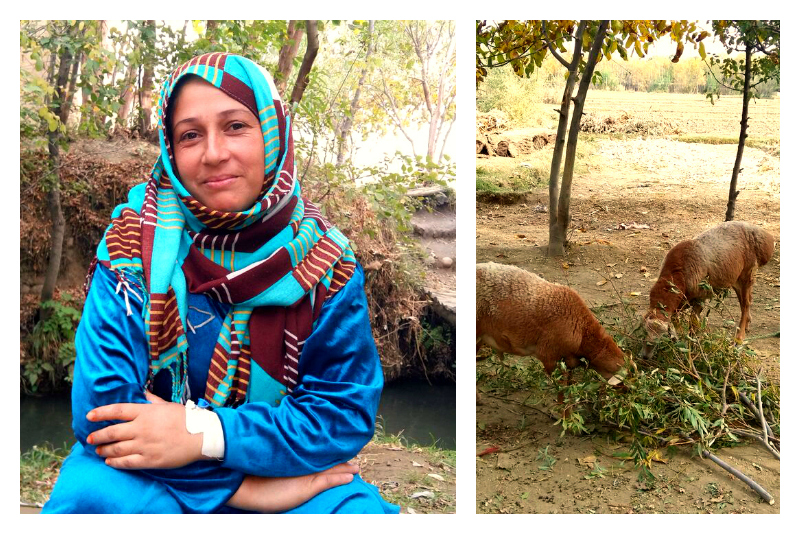 Photo credit: Women for Women International
"When my goat is one year old, I will sell it and have some saving money and buy a cow," says Zhal, a 35-year-old mother of five living in Afghanistan. "If my money is not enough for a cow, I will buy a one-year-old calf and raise it."
Zhal and her husband are farmers. They grow onions, potatoes, corn, beans, tomatoes, and wheat, which they use to feed their family and provide extra income. But with her goat, Zhal was able to start a new business making yogurt, milk, and butter.
"By having a goat, I have generated an income and support my family," says Zhal. She is saving as much as she can so she can purchase a cow, which would enable her to earn even more through her dairy business.
Zainab's Kids Can Go to School!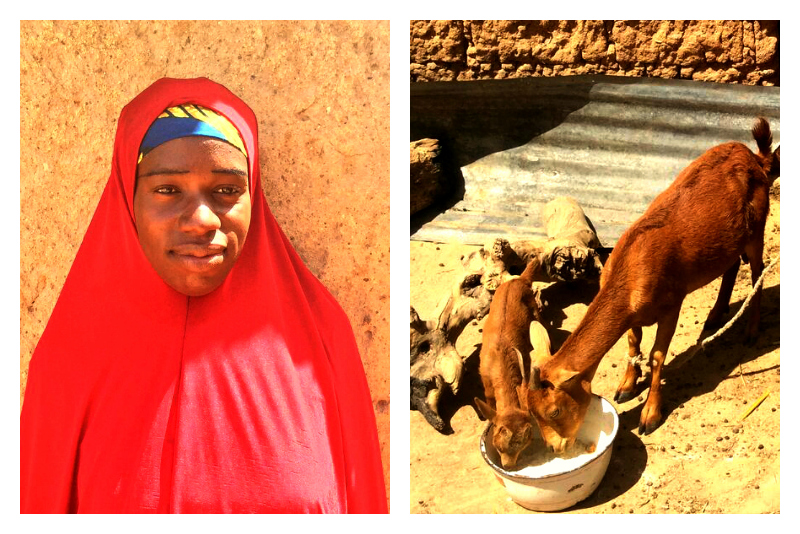 Photo credit: Women for Women International
"Having goats means securing my children's future through education, because I am determined to educate them to at least the tertiary level," says Zainab, a 20-year-old mother of two who is earning income from selling her goats.
Zainab bought two goats in April, using money she saved from participating in a savings circle with other WfWI participants. With the animal husbandry skills she learned, Zainab says, "I now know how to rear goats, understand when a goat is sick, and go for medical treatment from a veterinary doctor. I can identify when a female goat is pregnant for proper care."
"The money generated from the sales of the goats has eased the sufferings of my family," says Zainab. Her husband's income as a taxi driver is not enough to meet their needs, nor to send their five-year-old son to school. "I am able to start buying food, clothing, and also saving toward my son's education."
>> Give a holiday gift that supports women like Zainab! <<
Lack of Fertilizer Doesn't Get Anthonia's Goat Anymore!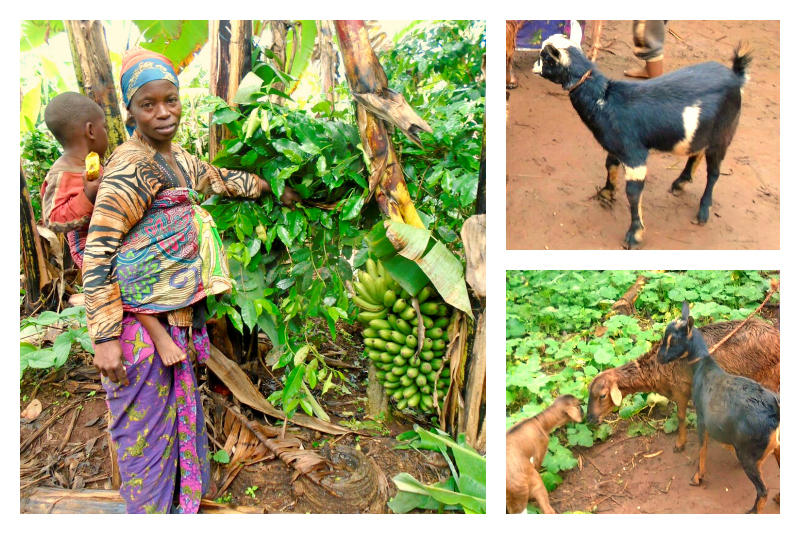 Photo credit: Women for Women International
"Now that I have three goats, I can continue to farm and use their waste as organic fertilizer," says Anthonia, a mother of seven living in the Democratic Republic of the Congo.
Anthonia had always relied on farming to support her family. But during WfWI's program, she joined a savings group and used the $20 she saved to buy her first goat.
"Our agricultural production improved thanks to our ability to use the goat manure as an organic fertilizer. We eat some of what we grow, and sell the rest at Mugogo market, often frequented by people coming from Bukavu and other areas to get supplies."
"It's the profit I make when I succeed in my work that inspires me to continue, in order to always provide for my family's needs." With the extra income from the farm, Anthonia plans to rebuild one of her three huts with brick walls and to recover the roofs next year. She's also planning to send one more child to school now that he is old enough.
Regina's Breaking Baaaaaa-rriers for Women!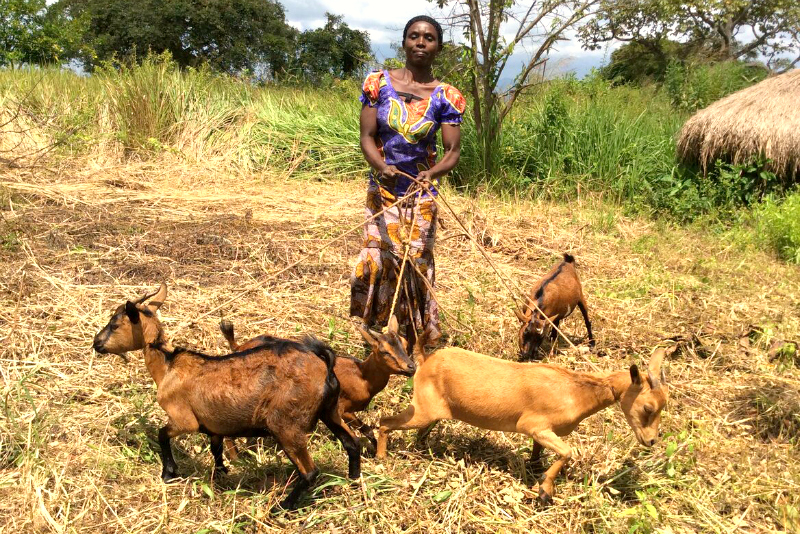 Photo credit: Women for Women International
"In the past, women could not afford to buy goats, but I, Regina Sunday, now have four of my own as a result of enrolling in WfWI's program," beams Regina with pride.
A mother of seven living in South Sudan, Regina is transforming other areas of her life too. She began planting her own crops after she learned that women could become farmers like the men in her community. With her improved income, she's able to provide more nutritious food for her children. And since learning about women's rights, she even intervened to help two women in her neighborhood who faced domestic violence.  
Sumaiya's Financial Plan Can't Be Bleat!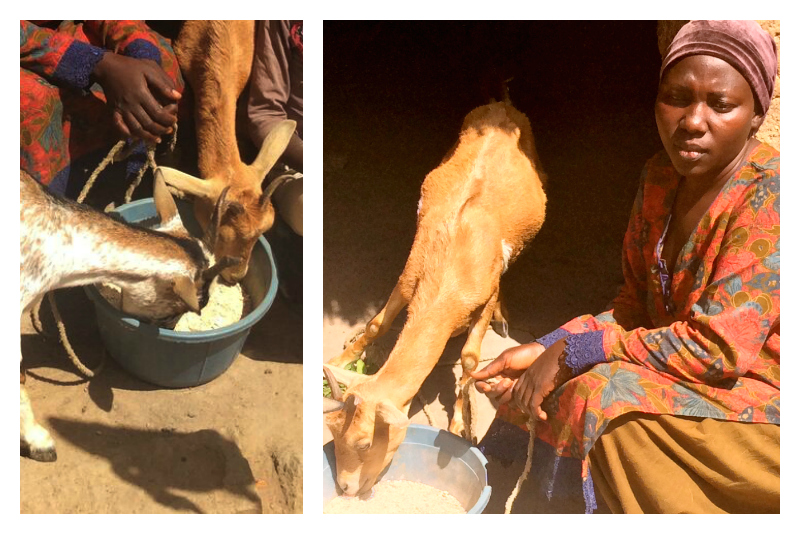 Photo credit: Women for Women International
"Having goats gives me financial security in emergency situations, such as paying medical bills, and my children's school fees," says Sumaiya, who lives in Jengre, Nigeria with her husband, four children, and six goats.
Like most women in her rural community, Sumaiya only attended primary school, as her parents couldn't afford her tuition. Determined to send her children to school, Sumaiya knows her goats will help her family during economic shocks so they can still afford the children's tuition.
"I had basic knowledge of goat-rearing, but I learned more when I joined WfWI's program," says Sumaiya. "I am able to use the knowledge I acquired…to reduce the mortality rate of my goats during the raining season, which has tremendously helped my family, as I sell some of them sometimes to take care of my needs."
With the financial security her goats provide, she's also planning to use her savings to start a storage business for maize next year.
>> Join our herd of supporters and help women like Regina rebuild their lives today! <<