Graduation marks an important milestone for the women in our programs, as they celebrate all they have accomplished together over the past year with determination and resilience. 
Inspired by this transformation, Olive, a WfWI-Rwanda graduate, wrote a poem that she shared with her fellow classmates and friends at their graduation ceremony in Kayonza.   
Olive stands with her fellow graduates as she reads her poem, celebrating the impact the program has had on her life. 
Olive's Poem: Let Me Praise Women
Let me sing and praise, jump and dance, praising a caring parent who welcomes whoever comes to her. This is you, Women for Women.
You found us, as we were lonely. You looked at us telling us not to worry, here I come, I see/understand your sorrow, I know where you are coming from.
As soon as we heard this, we couldn't believe you because the one who broke us, broke all in us. No one else can calm our sorrow but the Maker of all, the one who fashioned Rwanda.
While still doubting your words, you told us, "Don't worry, we are here now: the Rwandan proverb said it well, God spends the day elsewhere and comes to spend the night home in Rwanda. Now it is your turn."
As quickly as we were enrolled, our pictures were taken, then we were told here are your teachers. Be eager to learn because knowledge is our goal.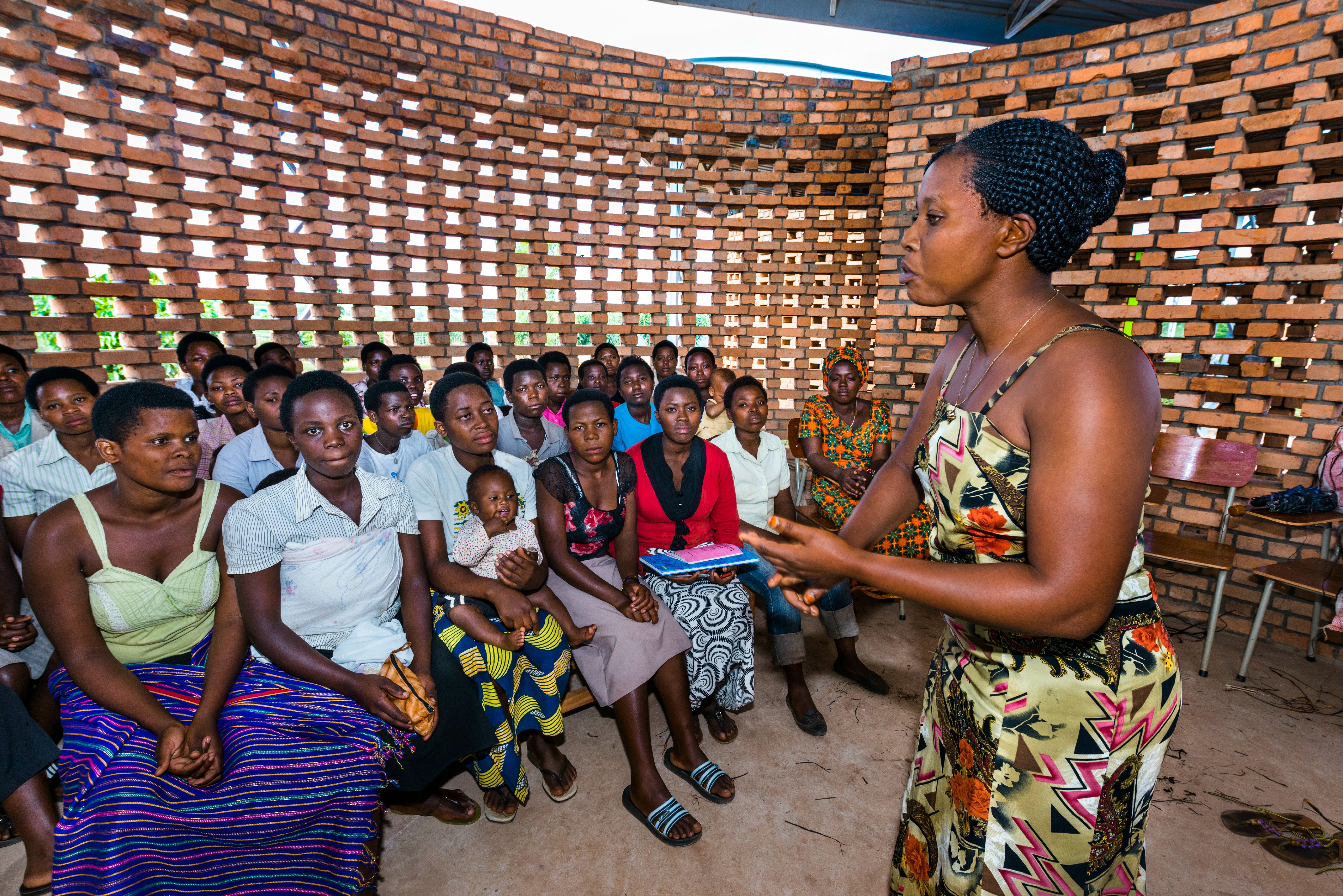 Women come together in classes of 25 for WfWI's yearlong program at the Women's Opportunity Centre in Kayonza.
Photo credit: Alison Wright
We have been told our rights, we are not left behind in decision-making. We are now familiar to family planning. Now we even work with each other, undeniably no one grows alone.
We supported each other without discrimination. We didn't focus on our groups only, we also went outside our groups. Definitely what's important is to support one another, which is actually what we are taught in the Rwandan culture.
Livestock, we have. Beautiful dresses we have. Houses have been built. Vocations we have learned. All of us women we're exemplary, no one else is behind this but Women for Women.
Now we can cook delicious meals. We are now specialized in baking tasty cakes and donuts, our pancakes are special.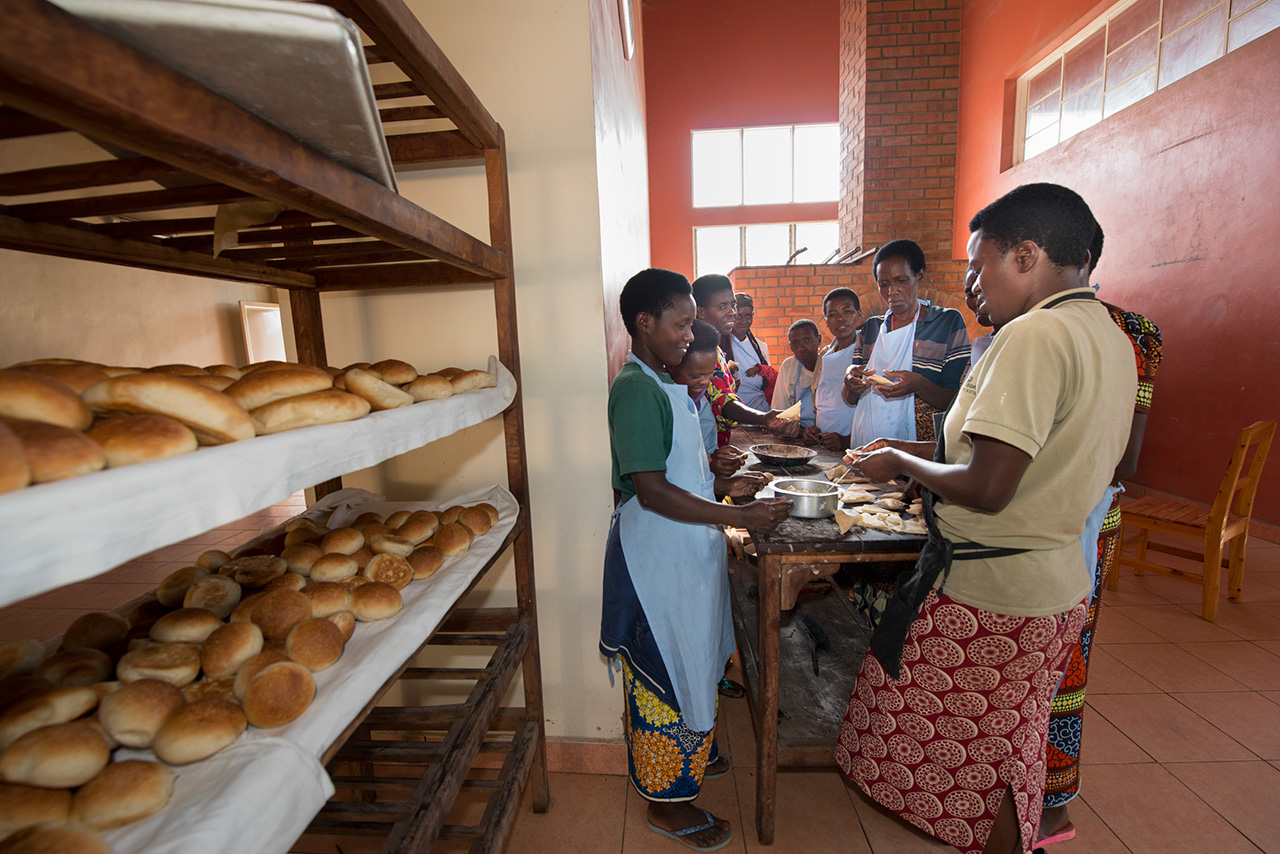 WfWI participants learn how to bake bread, chapatis, and samosas to sell in the local market at the Seven Loaves Bakery in Kibeho, Rwanda. Photo credit: Alison Wright
Chapatis are being cooked, homemade biscuits have become our specialty. Our pizzas and meatballs are just unique. Surely, we are not lazy women: we have applied what you taught us.
Beads are also there, beautiful earrings and pretty necklaces. We decided not to wear jewelry made by others if not from us.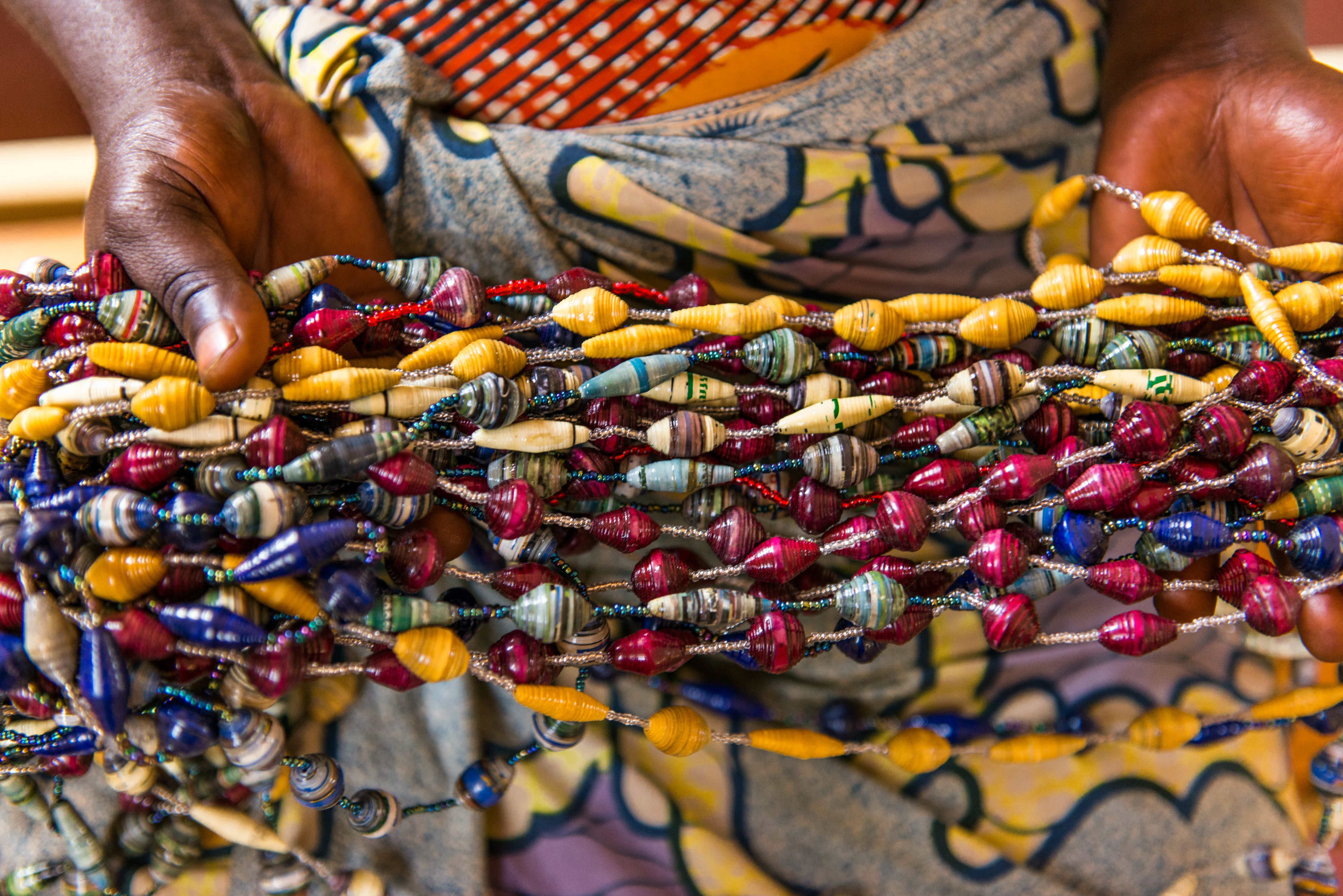 Beaded necklaces made by members of the Agaseke Vision Cooperative. To read more about the cooperative, click here.
Photo Credit: Alison Wright
Farming has not been left behind. Vegetables are being grown, we know how to cook them to fight against malnutrition and never host it again in our homes. This is even our country's goal.
Pruning coffee is now safe, our coffee is protected. Mushrooms are being cultivated if you don't believe us, you are welcome too see it with your eyes in Kinenyeri.
Now we know how to do business. You didn't waste your time teaching us. Teaching someone eager to learn is worth it as you can notice it. We are well and healthy!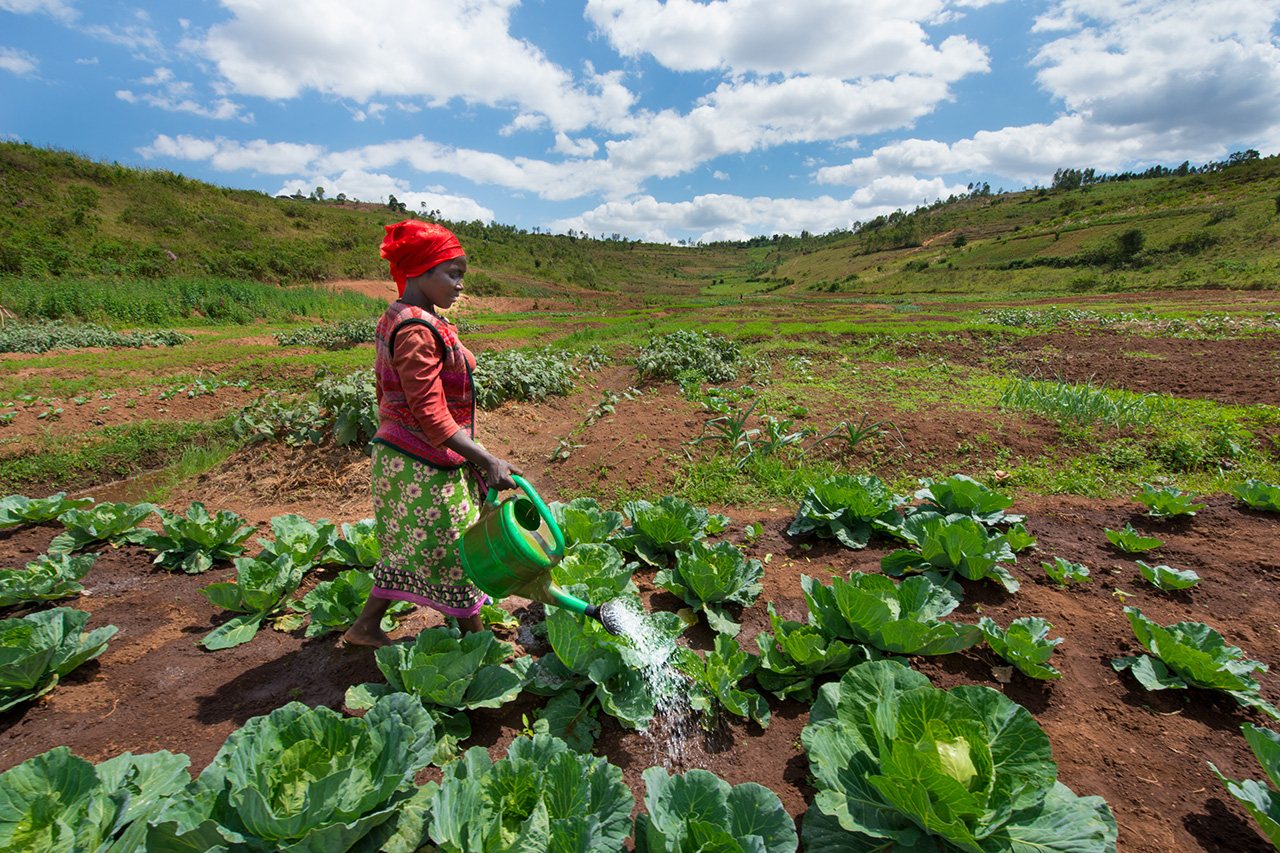 Miragire is a member of an agricultural cooperative in Kayonza started by WfWI graduates. Photo credit: Alison Wright
I end this poem thanking the government of Rwanda, that brought us from nowhere to somewhere, I thank our Sector, Districts and even our Province and above all our sponsor Women for Women.
And all of you who are here gathered. May God keep on blessing all of us. I wish you all peace.
>> Learn how you can support a woman like Olive today. <<
Olive's Poem: Let Me Praise Women (in original text):
Reka nterure ndate ndange
Ndirimbe nsimbuke mbyine
Ndate umubyeyi wuje ubwuzu
Udasubiza inyuma abamusanga
Ari wowe wimeni for wimeni
Wadusanze twigunze shenge
Utubonye ui "ni muhumure mama
Dore nje ntari umubyeyi gito
Agahinda kanyu ndakareba
N'aho muvuye ndahabonye."
Muihe tucyumva iryo jambo ryiza
Tuti reka data ibyo ntibishoboka
Kuko uwadushenye yaradushegeshe
Cyeretse Gihanga wahanze u Rwanda
Niwe watumara agahinda rwose
Tugishidikanya dutyo twese
Muti "muhumure erega twaje"
Umunyarwanda yavuze neza
Ati " Yirirwa ahandi igataha I Rwanda"
None uyu munsi ni mwe mutahiwe
Baratwanditse bidatinze
Baradufotoye turakomeje
Bati "abarimu banyu ngabo"
Mugire umwete mjuze mwige
Kuko kujijuka ari yo ntego"
Uburenganzira bwacu turabumenye
Mugufata ibyemezo ntiduhezwa
Kuboneza urubya twabigeze ho
Gufatanya n'abandi ntitwatanzwe
Erega n'ubundi ntawigira
Twateranye inkunga tutarobanuye
Ntitwibanze mu matsinda gusa
N'abo hanze byabageze ho
Kuko n'ubundi icyambere arukubana
Ninawo muco mwiza w'abanyarwanda
Ngayo amatungo ngiyo imyambaro
Amazu yarasanywe andi yarubatswe
Ngiyo imyuga hirya no hino
Abagore twese turasobanutse
Nyamara ntawundi, ni Wimeni
Twategura ibyo kurya byiza
Gateau izo twitaga iz'abazungu
Tuzizi cyane ndabigutuye
Amandazi meza kandi aryoshye
Pancake ntiwareba
Capati nziza zirategurwa
Biscuit na crepe n'ibyacuPizza naboulette nabyo n'uko
Erega ntabwo turi ibigwari
Twashyize mubikorwa rwose
Abandi nabo bati turaje
Iningi nziza n'ibikomo byazo
Amaherena nayo ntiyasigaye
Tuti ntakwambara iby'ahandi
Tuzajya turimbishwa n'ibyiwacu
Ab'ubuhinzi bati twatanzwe
Imboga nziza turazihinga
Tuzitegure neza iwacu
Imirire mibi icike iwacu
Ni nayo ntego y'uru Rwanda
Gukata ikawa ubu turrinzwe
Nta bisambo wasanga mo rwose
Ibihunyo turabihinga
Niba ugira ngo turabeshya
Uzaze urebe mu Kinyenyeri
Bizinesi ubu turayizi
Ntimwagosoreyemurucaca
Ubwira uwumva ntavunika
Ngira ngo namwe murabireba
Turasa neza nk'abadashonje
Ndangije nshimira Reta y'ubumwe bw'abanyarwanda
Yadukuye mu kaga n'akangaratete
Ndashimira ubuyobozi bw'umurenge
Akarere ndetse n'intara
N'umuterankunga wacu Wimeni for Wimeni
Namwe abateranye hano
Imana ikomeze iduhunde ibyiza.
Mugire amahoro