I thought only men have rights to everything. I never believed that I have rights.
These are the words of Zainab, a Nigerian woman who suffered years of abuse from her husband, in part because she did not know she had a right to live free from violence. As we mark Human Rights Day on December 10, Zainab reminds us that perhaps the greatest human rights violation is to prevent others from even knowing their most basic rights.
Like Zainab, too many women and girls around the world grow up believing they don't have rights. It's the result of a lifetime of discrimination and inequality. Eighty-five percent of the women we enroll in our programs at Women for Women International say they don't know their rights - including their right to be free from violence.
They share stories of how their families did not allow them to attend school or to work, and how they faced sexual harassment and violence, forced and early marriage, isolation from their communities and other human rights violations.
They are women like Zarghuna in Afghanistan, who was forced into marriage at six years old and faced years of abuse at the hands of her father-in-law.
Or women like Roseline in Nigeria, whose brother-in-law stole her late husband's land after his death - land that rightfully belonged to Roseline and that was her only source of income for her and her eight children.
Or women like Caritas in Rwanda, whose husband would hit her where bruises could not be seen and who never let her leave their home.
They did not know they have the right to live free from all of this.
Learning Their Rights and Taking Action
Their stories underscore that knowing their rights is the foundation of women's economic, political, and social empowerment - and that preventing women from knowing their rights enables perpetrators to commit acts of violence against women and other crimes with impunity. One of the most critical parts of WfWI's work is educating women on their rights - those guaranteed within their countries and those enshrined in international law. By the end of our yearlong program, 94 percent of women say they now know and understand their rights.
This knowledge gives them the confidence to act.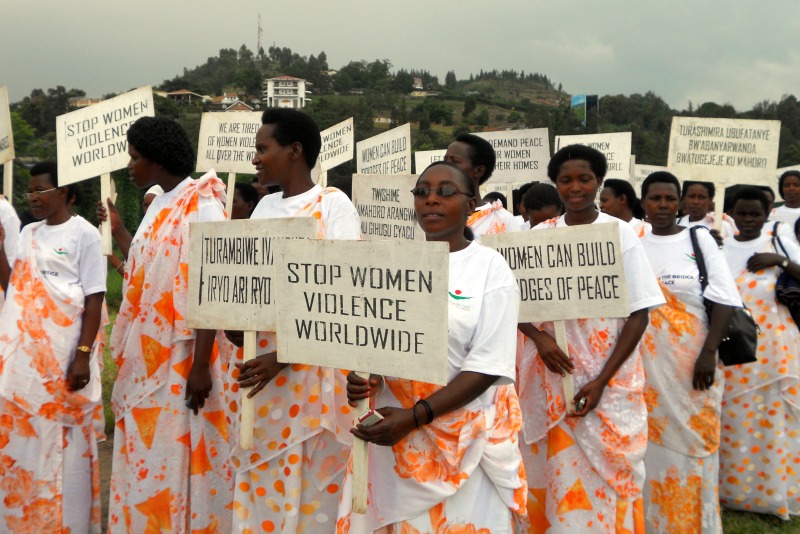 Women march for an end to violence in the DRC. Photo credit: Women for Women International
For Zarghuna, learning about her rights gave her the determination to start her own embroidery business in a country where few women are able to work outside of their homes. Today her business employs more than 300 women.
For Roseline, it made her see she could confront her brother-in-law and family about the stolen land and trees. The family fought back, but Roseline says, "I stood my ground, knowing it was my right to demand to have those trees. It took a while, but the family finally decided to hand them over. Today, they are mine."
For Caritas, it gave her the strength to tell her abusive husband, "From today on, if you beat me again, I am going to report you. Because I now know my rights." Today, she is running a successful beading business, and her husband no longer abuses her.
Engaging Men to End Violence Against Women
As we celebrate the strength and courage of women like Zarghuna, Roseline and Caritas, we also need to recognize that educating men about women's rights is an equally important step to ensure those rights are protected.
Through WfWI's men's engagement program in the DRC, men come together with women to learn how they can use their voices to promote women's rights and equality. Photo credit: Alison Wright
Countless men can and do stand as allies with women to challenge discrimination, violence and inequality. They support their wives, mothers, sisters and friends in working toward their goals, and raise strong daughters who believe they can do anything they dream. In communities where men have the power to prevent women from accessing their rights, male allies are among the most critical advocates to raise awareness and change attitudes and behaviors.
>> Learn more about WfWI's program to educate and engage men as allies and partners for gender equality. <<
Men like Dr. Denis Mukwege of the Democratic Republic of the Congo, whom we recognized with WfWI's 2015 Champion of Peace Award, are using their voices to speak out and encourage other men to support women's rights and equality. As the Founder and Medical Director of Panzi Hospital and a tireless advocate for ending rape and sexual violence against women and girls in conflict, Dr. Mukwege has spoken about the important role men play in ending violence against women.
This Human Rights Day, his inspiring words remind us of the role each of us can play to educate others and to stand up for women's rights:
"Our problem is that although only a minority of men rape, the majority does not denounce.

Many men close their eyes and ears in total indifference. But let's stress that rape is not a sexual relationship, it is the destruction of the other; it is to deny the other's humanity. We cannot close our eyes and ears when someone denies and challenges another's humanity.

Let's open our eyes and ears in the face of such evil acts and speak out when we witness the unacceptable. Although we may not be rapists ourselves, we do become accomplices of the crimes by not denouncing them.

I call upon men who believe in equality of gender.

I call upon men who refuse to close their eyes and ears, and urge them to speak up.

I call upon men to join women in the fight they have been in over the last 100 years for their basic and fundamental rights.

The time is now, to stand in solidarity with women, for women."
This blog was originally posted by former WfWI CEO Jennifer L. Windsor on the Huffington Post on December 9, 2015.