Three years ago, WfWI Ambassador Amanda Ulrich began a journey to raise support and awareness for women in the Democratic Republic of the Congo. She shares who inspired her to begin this work, and how she has stayed motivated through difficult times.
Amanda Ulrich with part of Team
Congo PDX running to support women
in the DRC.
I remember the morning I learned about the women who inspire me. Riding the bus in Portland in 2011, I read about the extreme violence women face in the eastern Democratic Republic of the Congo for the first time. I was shocked and moved by their experiences, and inspired by what I read next. Another woman in Portland, Lisa Shannon, had decided to raise awareness about what was happening, starting with a 30-mile run. I had just started to run a few months prior. When I heard how Lisa had turned her first run into a grassroots movement Run for Congo Women, I knew that I had found a cause I just had to be an upstander for.
And, so began a now three-and-a-half-year effort to both educate others about Congo, help the women who live there, and support policy-based initiatives designed to help bring sustained peace to this beautiful part of the world fraught with human rights abuses so grave you sometimes cannot believe they are real.
I started out my work a ball of energy, and before I knew it I was planning an annual running event to benefit Women for Women International's (WfWI) Congo program and became an official WfWI ambassador. I also began to work with local activists to push for conflict mineral reporting and a Conflict Free City Initiative (CFCI).[1] On a regular basis I was meeting with local activists, elected officials, policy-makers, and even Intel's supply chain management director in charge of their conflict mineral programs.
It was an inspiring time. I'll never forget the morning of my first large scale Run for Congo Women event when I was able to talk with Lisa Shannon over the phone. It was a full circle moment, which touched me to the core. I got to speak to she who inspired me!  I truly felt on the right path, and was in constant awe of how supportive my family, friends, co-workers, employer, government officials, local businesses, and area advocates were. I could not believe that I could read a book, and actually get to be a part of the movement I had read about, and to work with the very person who had inspired me, Lisa Shannon.
No doubt that Lisa Shannon inspired me to step up to be a vehicle for positive change. Her story sparked alive in me a desire to fulfill a promise I had long ago made to myself when I first learned about The Holocaust, that if ever during my lifetime I learned about human tragedy on the same scale I would not be silent. And so when I read that over 5 million have died in Congo due to extreme violence, and that further my use of electronics products was inadvertently fueling the conflict, I knew that I had to do something. Lisa simply gave me the inspiration I needed to believe that I could be a part of changing the situation in Congo.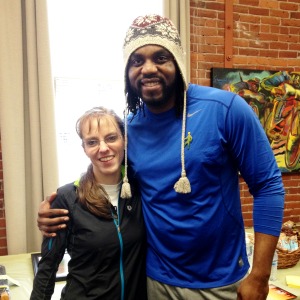 Amanda with Team Congo PDX
runner, Immo
Despite how blessed I felt to be working on so many meaningful projects, and with so many wonderful people, it was not always easy. During these times I would go for a run, and think about the women in Congo. I'd tell myself that if they can suffer extreme violence, often sexual, then I surely could see my projects and commitments through. I'd tell myself I am so blessed to have so many people willing to support me, and I must honor that support. I would see an exhibition or a film about the Congo, and feel inspiration well up inside me, reminding me that my work was not yet done. Indeed, it was during these times that the women of Congo, collectively, inspired me. And I carried on.
So, here I am, three and a half years out from when I first embarked on this journey, once again a determined and inspired ball of energy.  And, you know the best part?  I've recently begun to put together an awareness event where Lisa Shannon, she who inspires me, will be our guest speaker. Another full circle moment to be certain.
Who inspires you? Share her story using #SheInspiresMe and #WfWI on Twitter, Facebook, and Instagram!
[1] CFCI, which calls upon cities and universities to pass resolutions which "express the city's preference, as a large consumer and holder of major purchasing contracts from companies, for conflict-free products. It will encourage the electronics industry and others to do more to source minerals from eastern Congo that benefits communities rather than fuel the cycle of rape and war. Source: http://www.raisehopeforcongo.org/content/conflict-free-cities]