When Christiana was unable to become pregnant and bear children, her husband became abusive. She found support in her network of friends in the WfWI training program.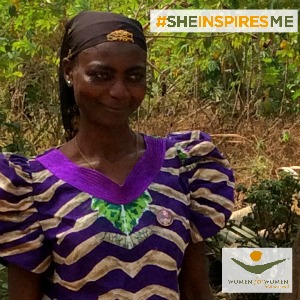 Christiana Aneke
"When my husband came and beat me up, seized my clothes, and dragged me around, disgracing me in the village, I ran to my women for support," she says. "They rallied around me, and are still standing by me as I fight for justice to get back that which is mine."
Christiana, age 40, graduated from the WfWI program in December 2014. Of all the things she learned during WfWI's 12-month training, Christiana says it was the group of women she was connected to through the program that has had the greatest impact on her life.
"I was able to share my experiences with my friends in the program," Christiana explained. "They provided moral support and it helped reduce the stress caused by my husband's abuse." Christiana's training group encouraged her to stand up for herself and reminded her that she has value and worth as an individual.
Are you inspired by an amazing woman like Christiana? Share why she inspires you using #SheInspiresMe and #WfWI on Twitter, Facebook, and Instagram!
Christiana says learning a new skill to help her earn an income has also helped her develop self-confidence. "Because I am now able to earn an income, I feel more confident of my rights and am able to stand up and fight injustice," she says. "I still hope to have children of my own.
"Now I am saving some of the money I earn, and my plan is to visit a good hospital and be tested to see if I can receive treatment to be able to have children one day."
Christiana is inspired by a woman named Virginia who is known for fighting injustice and violence in their community. "I like her boldness," Christiana explains. "I want to be a woman of strong character like her."
Check out our #SheInspiresMe page for more stories about inspiring women around the world.