"She found me empty, but left me a totally different person," says Francoise Niyodusaba about Jane Abatoni, her life skills trainer. "She inspired me to hope again and feel alive again."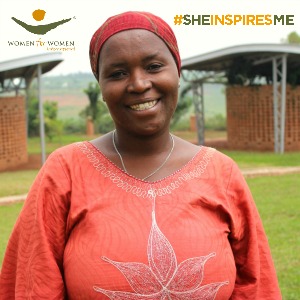 Francoise Niyodusaba at the Women's 
Opportunity Center in Kayonza
When Francoise first met Jane, she remembers how, "I […] didn't want to meet people. I used to hide from my neighbors and didn't want to talk to anybody." As a 39-year-old widow struggling with the loss of her husband several years before and the stress of providing for her three children on her own, Francoise had serious doubts about her ability to care for her family. "I used to think that a widow's children cannot survive and have any better life without external support."
In Jane, Francoise found the support and encouragement she needed to heal. "She took time to listen to me and this encouraged me to go through the 12-month program. I found in her a friend, someone I can trust, share with and open up to." Being in a place where she felt she belonged and learning how to manage the daily stress she faced, Francoise's health began to improve, and she no longer needed medication she had been taking for trauma and stress.
Finding the Strength to Stand on Her Own
Through Jane's classes, Francoise learned how to save, and how to invest money in a business. "[It] has been the best gift I could ever get in my life," she says. Discovering new ways to earn income and the strength to stand on her own, Francoise saved enough money to build six houses that she now rents to tenants. She has enough income to provide for her family and continue to invest in her business. "Now that I feel that I have become a responsible businesswoman, I dream to build many more houses, and even high buildings." She is working to grow her assets through a savings group she formed with several women in her training group.
Having a reliable source of income has lifted an incredible burden from Francoise's shoulders. "Today, I am confident for my children and myself. I can see through the tunnel." Now that she is able to pay their school fees, Francoise is planning for them to attend university in the future. Having only a sixth grade education herself, Francoise says, "My hope for a brighter future for them has definitely increased. I dream bigger for them." She feels more connected to her children as well, saying, "I am more open to them […]. I show them love more often."
Who inspires you? Share her story using #SheInspiresMe and #WfWI on Twitter, Facebook, and Instagram. 
Fighting for Her Rights as a Woman
In addition to learning how to earn and save money, Francoise says the lessons Jane taught her about human rights were particularly important to her. "It came at the right time and completely changed my life," she says. Francoise's former in-laws are trying to seize her late husband's possessions, and are legally contesting their right to his property. "The lesson on women's rights together with Jane's continuous encouragement motivated me to fight for my rights as a woman," Francoise explains. She chose to defend herself, without a lawyer's intervention, and thinks she may still win her case against her late husband's family.
"Today, I am strong and capable of supporting other women and feel like there is no woman who can be in need in my presence," says Francoise with confidence. "I can help them overcome their loneliness and help them improve their lives as I did, so that they become responsible women in their families and capable of decision-making."
"My wish for all women in my community is to get the support I had in terms of the lessons to reach where I am, or beyond. My wish is for every woman's life to be transformed as mine has been, thanks to the program and the people I met in the program."
Four months after graduating from Jane's classes in Women for Women International's program in October 2014, Francoise still can't believe how much her life has changed. "Sometimes I feel like I am living a fairy tale," she says. "I owe my success to my teacher, Jane. She has been a caring and loving person, who helped me a lot to [once again live] a hopeful life."