Hassana has always been determined to see her own four children educated – especially her two daughters. However, Hassana found that paying their school fees to keep them in school was nearly impossible. She had to wait for her husband to pay the fees, and if he refused, she would have to go to the school and plead with the teachers to give her more time to raise the money.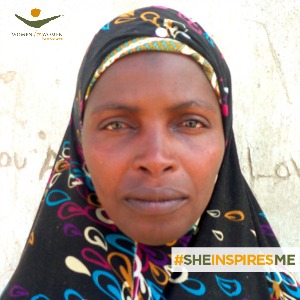 Hassana Rahama Abdullahi
"My children were often sent home from school because I could not afford to pay their fees," Hassana explains. She didn't want to depend on her husband for the money she needed to send them to school any longer. Joining Women for Women International's program meant she didn't have to. "Now I can pay their fees with my monthly training stipend, and I don't have to worry about where I will find the money."
In addition to paying school fees, Hassana also uses her monthly training stipend to expand her growing ground nuts business.
Who inspires you? Share her story using #SheInspiresMe and #WfWI on Twitter, Facebook, and Instagram!
Investing in women is an investment in their children as well. "Earning an income as a woman brings about big changes," Hassana says. "Aside from being able to pay my children's school fees, I am now able to feed them better, too. I can ensure that we eat more nourishing foods than we did before." Through the yearlong program, Hassana learned about nutrition, hygiene, and other health practices that she can use to help her family.  
Learning more about her rights has also changed how Hassana raises her children.
"Before, my sons rarely did any chores. But after learning that all humans are equal and that household chores should be shared equally among children, irrespective of their gender, I make sure they also do them. This has given me the opportunity to have more time for myself and for my family," she says. "And to my surprise and delight, they enjoy doing the chores assigned to them!"
"Joining the program has made me see myself differently," Hassana explains. "I am a more effective parent, and I am able to raise my children better."
Check out our #SheInspiresMe page for more stories about inspiring women like Hassana from around the world.