Before joining the WfWI training program in 2006, Huma didn't get out much – she cared for her children, her home, and the cows that were the main source of income for her family. "At one point I was spending so much time with cows that I was afraid I would start to moo," she says. She didn't have any friends in her neighborhood, and she never spoke in public. "I did not have the courage to express my opinion because I didn't believe it had any value," she explains.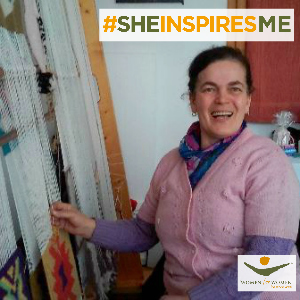 Huma Cilic weaving 
All of that changed when Huma enrolled in the yearlong training program. She learned new agriculture skills to help her grow vegetables and also how to improve the quality of her dairy products. She applied for a local agriculture subsidy and was able to purchase a mower and milking machine. Perhaps even more importantly, she was connected to a strong network of women through her training group and began to make friends.
"My self-confidence now is really high," Huma says. "I am not afraid of anything anymore, and I believe I can do everything."
Who inspires you? Share her story using #SheInspiresMe and #WfWI on Twitter, Facebook, and Instagram!
Huma's transformation inspired her two daughters to finish school and become financially independent before they eventually married. One of them was so impressed with her mother's success that she decided to study agriculture and today is an agricultural engineer. "I am very proud of both of them," Huma says.
"It's very important to give women opportunities to become more independent and earn their own money," Human explains. "It  creates self-confidence to be able to contribute to your family's well-being."
After graduating, Huma joined the local women's association founded by other women graduates of the program, and continued to learn and grow. "No small town should be without a women's association," she insists. "It's a very important resource, especially in small communities where many women have low levels of education and are usually unemployed.
"The women in my association give me so much inspiration," she says. "I come to the association constantly because of them. We work together, we share our life stories. Sometimes we cry together – but together we are strong enough to carry on."
Check out our #SheInspiresMe page for more stories about inspiring women around the world.