Being able to earn an income and support herself and her children has changed the way Joyce views herself and her life. She has more self-confidence, and hope for the future. "I am now free from stress," she says.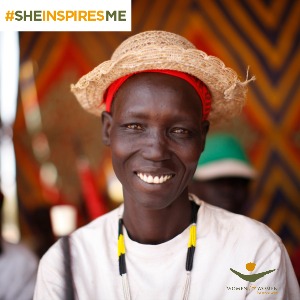 Photo credit: Brian Sokol
"I suffered a lot at the hands of my husband – oppression, abuse, and torture" says Joyce, a program participant from South Sudan. "But now I am an independent woman and live happily. I don't even think of being supported by my husband anymore. I can support myself."
Joyce, age 32, enrolled in the program in April 2014. "I have seen many changes in myself," she says. "I do business, get medical treatment for myself and my children, eat good food, can buy what I need, and sleep on a mattress." Joyce grows vegetables, and also buys goods at rural markets to sell in town for a profit.
Who inspires you? Share her story using #SheInspiresMe and #WfWI on Twitter, Facebook, and Instagram!
She is also planning for the future. "I have planted green vegetables in the swamps to sell during the dry season, to help me earn more income then." She is making a better life for her two children, as well. "I send my children to school, and am making sure that they grow up to be responsible people in the future."
"The challenges in my life made me want to do something, but I didn't know what," Joyce explains. "Having received these trainings, I now have a clue what to do and how to do it in order to realize my dreams."
Check out our #SheInspiresMe page for more stories about inspiring women around the world.
The photo accompanying this article features a Women for Women graduate, however, for privacy or security concerns, it is not an image of the woman described in the article.