"I have a vision and a direction," says Martha Mukambonera, as she describes the changes she has experienced in her life over the past year.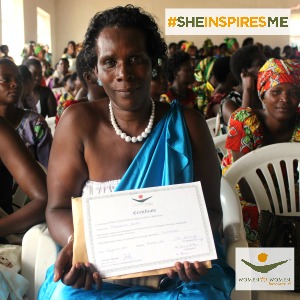 Martha Mukambonera celebrates her
graduation from WfWI's program. 
"I am more confident, more motivated to do business and help others to do so. And in my business, I think more in terms of improving what I didn't do well."
One year ago, Martha joined Women for Women International's program in Kicukiro, Rwanda, where she learned new business skills and made connections with other women that set her on a new path for success. At 53, Martha says her education in primary and secondary school taught her "how to be a good wife and a good mother," and she always felt limited to that role. She tried to have a small shop, but always struggled to manage her business and to make ends meet.
"The support women need above all else is knowledge," says Martha. "Poverty, in terms of knowledge, is worse. When one's mind has been opened, small things can be turned into big things."   
"I could apply it to my life."
With the business and tailoring skills she studied during the program, Martha started a cooperative called Zamuka Nawe that creates bags. Together, she and the members are each able to save 500 RWF (approximately $0.72 USD) per week in their Savings and Credit Cooperative (SACCO) account. Today, Martha says, "I am capable of doing business and this way I can improve my life and my family's."
Who inspires you? Share her story using #SheInspiresMe and #WfWI on Twitter, Facebook, and Instagram!  
One of the lessons from the program that has made a huge difference for Martha is bookkeeping. Before, she says, "I didn't know how to keep expense books, but now I know I need to have a budget and write down everything from what I spend to every income. […] This has been very helpful in changing my way of thinking towards doing business. […] I feel I am more organized."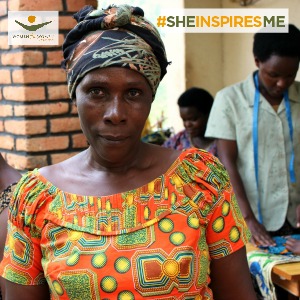 Martha and her cooperative Zamuka Nawe 
For Martha, one of the best parts about the business lessons she learned in the program is that they gave her the right tools to grow her business. "I could apply it to my life," says Martha, recalling the encouragement she felt knowing she had the ability to use the lessons to bring about change in her own work. With the successful start of her cooperative, she is now dreaming bigger. "I hope our cooperative products will be linked to markets, and this way, together we will improve our lives and show other women that it is possible to change their lives as well."
Progress together
Now that she has graduated, Martha says the most important and valuable part of the program was the knowledge she and her friends received. "It helped me to have confidence in me, not depending on my husband for each and every thing. I wish all women have that opportunity of gaining more knowledge about business, savings, and the spirit of togetherness, because as groups we do great things and we move faster."
Today she advocates for women at the village level, and shares what she has learned with others because "it took me from where I was to where I am now." She hopes through her work that "all women [will] progress together, with no one left behind."
For this reason, Martha says she is inspired by the woman who registered her and other women in her community in Women for Women International's program one year ago. Because she encouraged her to enroll, Martha has a new outlook on life and looks forward to continuing to grow her business and inspire other women along the way.