For Phibi, a program graduate in Nigeria, a small savings bank made from mud clay represents the power she has to change her life – and the life of her daughter, too.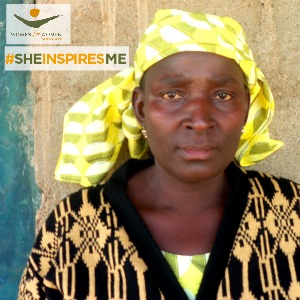 Phibi, WfWI-Nigeria program graduate
Phibi is a 40-year-old widow with two children. She had been forced to drop out of school and marry after her father died suddenly when she was a girl. She enrolled in the twelve month program in 2013, and learned about how to build savings as part of the training. She immediately purchased a small clay bank at the local market, and started using it to set aside small amounts of money she made from selling the vegetables she grew in her garden. She eventually saved enough to pay the tuition fees for her daughter to finish school, and to have her son trained in carpentry. 
Who inspires you? Share her story using #SheInspiresMe and #WfWI on Twitter, Facebook, and Instagram!
Next, Phibi saved up to buy a knitting machine. After she graduated, she joined a knitting cooperative with 13 other women from the program. They call themselves Chigaba, which means "Progress" in Hausa. She makes and sells sweaters, caps, socks, and blankets for both adults and children.
"Women for Women International helped me to realize my potential," she says. "I hope to save to buy more knitting machine so that can teach other women how to knit and earn money to support themselves and their families."
Phibi says that she is inspired by two of her Women for Women International program trainers. "My business trainer, Emmanuel John, taught me how to treat my customers so that they come back and tell their friends about my business, too," she explains. "My social empowerment trainer, Itoro Isaac, taught me how to be patient with other people, regardless of their attitudes or background. This has helped me relate to other people better.
"It is important to invest in women like they invested in me," Phibi says.
Check out our #SheInspiresMe page for more stories about inspiring women around the world.