At the end of each year of teaching, Philomene would challenge the women in her class: "Are you going to stop improving now that the program is over?"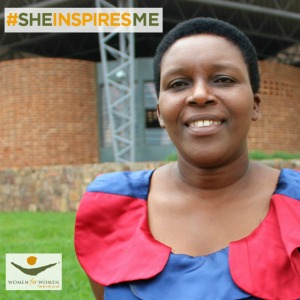 WfWI-Rwanda trainer Philomene
Dusabimana at the Women's
Opportunity Centre in Kayonza.
Seeing the progress they had made over the year, she hoped the women would take forward the lessons they had learned, and use their new networks, strength, and self-confidence to continue to work toward their goals. She began to realize, however, that she was missing an opportunity to apply those words to her own life.
"This pushed me to reflect and think…what would be my future?" says Philomene Dusabimana, a trainer with Women for Women International since 2005. As she started applying her lessons to her own life, she says, "It has just transformed everything."
"I am a different woman ever since."
"I don't think small anymore. The lessons helped me realize we need to expand our thinking and go beyond our comfort zone. Save and invest and know that there is nothing a woman can't achieve! The lessons on gender equity helped me realize that! I am a different woman ever since."
Many of the lessons she teaches focus on helping women find opportunities in male-dominated jobs like construction, and in financial activities like investing in building assets and applying for loans. Soon, these lessons began to influence her own life.
"Everything that I thought was reserved for men, I started doing myself," says Philomene. "I took driving lessons, I bought building assets. […] Today I am capable of making decisions without limitations. I save and invest for my future and my family's. I realized all these things are not men's exclusively anymore." Philomene now owns several houses and plots of land in Kicukiro that she rents out as an additional source of income.
Advocating for women in her community
Her inspiration to change her life goes beyond finding ways to improve her financial stability. "I have been inspired […] to become a leader myself," says Philomene. "When I was teaching the lesson on 'women and voting,' I was encouraging the women to be candidates during elections and think of leadership positions in their communities to advocate for other women." Inspired and encouraged by them, Philomene ran and was elected to be in charge of social affairs in her community, and as an Advisor in Umurenge-Savings and Credit Cooperative for Remera Sector.
"Those positions help me to advocate for the most vulnerable women in my community, especially those who want to do business but who can't afford a mortgage to get a business loan." Being in this position has been empowering, says Philomene, "to see how courageous women are when they have someone who advocates for them."
Who inspires you? Share her story using #SheInspiresMe and #WfWI on Twitter, Facebook, and Instagram!  
Inspired by a graduate who chose her own path
With International Women's Day coming up on March 8, there is one woman in particular who inspires Philomene – Liberata Mukakenda, a graduate of WfWI's program who also lives in Remera. "Before she joined the program, she used to be a potter," Philomene explains. "But today, she has built several houses. She is the president of a cooperative of potters in Remera." Liberata also works to promote energy-saving traditional cook stoves through her involvement in the Rondereza Project and the Cana Make Project. "Her path challenged me, and truly inspired me," says Philomene.
Women like Liberata remind Philomene that "training one woman is to train her family, her community, her nation." As a mother of four daughters and one son, she is determined to pass on this inspiration to her children, and wants all of them to attend university. Her eldest son is already studying at a university in China. "I came to realize the power of knowledge. What I learned myself while teaching transformed my perspective on life. […] I encourage [my children] to focus on their studies, because the reward is bigger than what we can think or imagine."
Philomene hopes that more women have the opportunity to find the kind of empowerment she has experienced through the lessons she gives as a trainer. "By inspiring them, I was inspired myself." By coming together and drawing strength and inspiration from each other, women like Philomene and Liberata are building a new future for themselves, their families, and their country.