War has almost always been a part of Regina's life. It forced her to drop out of school, led her to flee to the Democratic Republic of the Congo with her family, and even took the life of one of her eight children.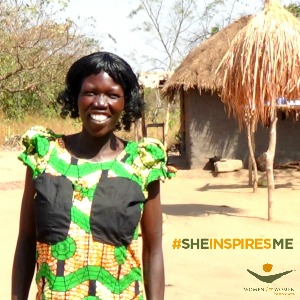 Regina Faiza John
With the support of her Women for Women International training group, Regina changed her life.
She joined the Women for Women International program in 2013. "Before the training, I used to have to wait to receive food, medical treatment, and clothes from my husband," she explains, "but now I work for myself. I am proud of earning an income and supporting my family."
"I learned many things in the program, like how to balance my household work, save money, and about women's rights," Regina says. The program's training in hygiene and nutrition has also had an effect on how Regina cares for her home and family. "My children were sleeping in a dirty room on a dirty blanket – it was not good for their health. But now I clean their room every day and make sure their blankets are washed regularly. I give them a balanced diet and take them to the doctor when they are sick."
Who inspires you? Share her story using #SheInspiresMe and #WfWI on Twitter, Facebook, and Instagram!
After completing the program in September 2014, Regina was selected to give a speech at the graduation ceremony. "I felt strong – changed," she said. "I was able to give a speech in front of many people!"
Regina went on to form a bread-making cooperative with some members of her training group. "We also discuss our problems, and educate one another on important family issues, like preventing domestic violence," she says. "We share our experiences and learn from each other."
Check out our #SheInspiresMe page for more stories about inspiring women around the world.