When Remzije lost her husband at a young age and was left to raise their five children alone, she never imagined she would become a local business leader.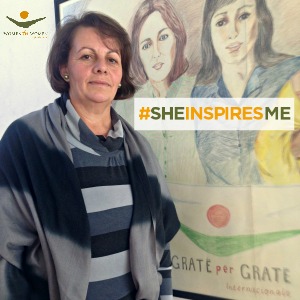 WfWI-Kosovo graduate Remzije Berisha  
"I never thought that I could make it on my own, […] that I would be able to provide for my family myself," remembers Remzije, who up until that point had never worked outside of her home. "I was afraid that I wouldn't be able to raise and educate my children."
"I only finished elementary school. I couldn't continue my education, despite my wish to learn, because at that time the education of girls was not given any importance," says Remzije. "The mentality was such that it was more important for boys to get an education. Only a few women of my generation could further their education back then." 
Remzije found new inspiration and a way forward after joining Women for Women International's program in 2004. For her, the opportunity to connect with other women who faced the same problems she did was important, and gave her hope. "This way, [women] can get support and strength from each other," says Remzije.
"I feel empowered" 
Ten years later, 45-year-old Remzije says her view of herself and what she is capable of has completely changed. She now leads an agricultural cooperative of 78 women in her community of Prugovc. "I see myself from a different angle now," she says. "I feel empowered. I am aware of my value and that I can contribute, for myself and others."
At one of the fairs her cooperative attended, Remzije remembers meeting a woman whose story resonated with and inspired her. Like Remzije, Fahrije Hoti was a widow. "She lost her husband during the war, and she suffered a great deal. In order to rebuild her life, she became involved in different activities, presenting and selling her agricultural products. She inspired me to start doing the same."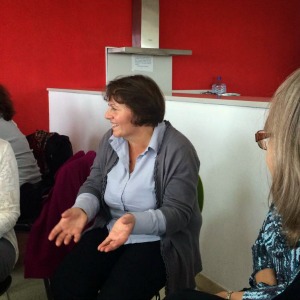 Who inspires you? Share her story using #SheInspiresMe and #WfWI on Twitter, Facebook, and Instagram!  
Many of the women in her cooperative were in Remzije's class at WfWI. Together, they produce paprika chutney, pickles, dairy, sweets, and handcrafts, which they sell at fairs. Looking to the future, Remzije and her cooperative are working to apply for additional projects, in order to increase their work processing fruits and vegetables. They are also looking to establish a collection point for the agricultural products that they process.
Supporting her family and other women 
Earning a steady income has made Remzije's life easier. "I was able to fix the house, which was in very bad condition," she says. She is proud that she has been able to meet her children's needs, too. "They were able to make their dreams come true and become successful through my support."
From lessons she gained during the program, she says she has also been able to develop a stronger relationship with her children. "My role as a parent has changed. […] Now when I talk to my children, I try to keep a positive attitude and give them the opportunity to discuss their problems or needs with me."
Reflecting on all the changes that have happened in her life, Remzije says, "I never thought that I would have a decision-making role in my family and in the cooperative that I currently lead. I contribute to the well-being of others by supporting women in need, and giving them the opportunity to become members of the cooperative. The challenges that I had to face during my life gave me the strength to support other women, and I do this with love."
Inspired by Remzije's story? So is Zoje Shala, WfWI's Senior Life Skills Trainer in Kosovo. Read her story.