When her husband died suddenly a few years ago, Roseline, age 50, knew she needed to find a way to support their eight children on her own. What she didn't know was that she was going to have to fight for the right to her late husband's property, including the profitable palm, coconut, and wild mango trees growing near their home in Aji Ezike-Igboeze, in north Enugu.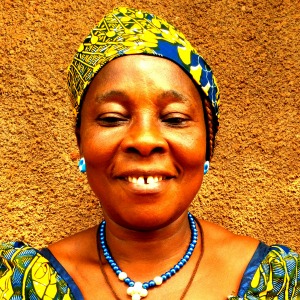 Roseline Urama
After her husband's death, his family tried to claim the trees. "They said that according to tradition, all of my husband's property now belonged to his eldest brother," Roseline explains. She didn't know what to do, or how to stand up to her husband's family.
Tradition in most parts of Nigeria is still largely patrilineal, and inheritance commonly follows the custom of primogeniture, in which property goes to the eldest son, who is the head of the family. Under this same custom, widows cannot inherit their husbands' property, and only men have the right to own land.
In 2013, Roseline enrolled in Women for Women International's yearlong training program and joined Enugu-Ezike Group 70. "I learned about my rights, and this gave me the confidence and courage to approach my husband's brother about the trees," she says. The family held a series of meetings to discuss her claim, and even sent a delegation of women from the family to Roseline's home to try to intimidate her into backing down. "But I stood my ground, knowing that it was my right to demand to have those trees," she says. "It took a while, but the family finally decided to hand them over. Today, they are mine."
Who inspires you? Share her story using #SheInspiresMe and #WfWI on Twitter, Facebook, and Instagram!
In addition to learning her rights and how to stand up for herself, Roseline also learned how to raise and care for pigs as part of her skills training. She stayed in touch with the members of her group after graduation in 2014, and some of them formed a pig farm cooperative together. She started out with three pigs, and now has 10. "This program has helped me to stand on my own," she says proudly. "It helped build my self-confidence. Now, sometimes other women come to me for advice."
As International Women's Day approaches on March 8, Roseline says she is inspired by a woman in the nearby city of Enugu who recently ran for a seat in the national government against four men, and came in second at the polls. "Even though she didn't win, she proved that women have what it takes to hold office," Roseline explains. "She has inspired me greatly, and I wish to be more like her."
Check out our #SheInspiresMe page for more stories about inspiring women around the world.