Sara is a divorced single mother who has survived war and exile from her home country. She says she has been inspired by her trainers to keep working and striving.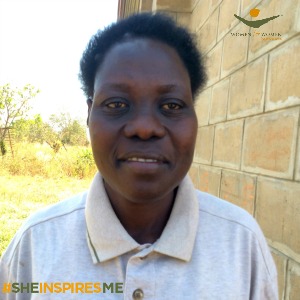 Sara Uminah
Sara enrolled in the Women for Women International program in March 2014. She is receiving training in growing vegetables, and has learned about her rights and how to improve her health and well-being. She is using part of her monthly stipend to send her daughter to school. "I can now educate my daughter and guide her as she grows up," Sara says proudly.
"My trainers are good people," she says. "They taught me how to plan and manage family problems and improve my health – and my eyes are now opened."
Who inspires you? Share her story using #SheInspiresMe and #WfWI on Twitter, Facebook, and Instagram!
Growing up, Sara's family fled to Uganda to escape violence near their home in what later became South Sudan. "Life was very hard in exile," Sara, now age 32, says. "My parents could not afford to pay my school fees, and I had to drop out."
"I later married a Ugandan man. We had two children together, but one died. My husband could not support us, so I divorced him and decided to return to South Sudan with my daughter."
 "I can now grow enough food to sustain us and to sell in the market to earn money for our daily needs and save for the future," Sara says. "My life has improved because now I am free of stress and have a clear direction for my life as I struggle to be more self-reliant."
 "I am still attending trainings, hoping to be better in the future," Sara says.
Check out our #SheInspiresMe page for more stories about inspiring women around the world.