War has taken a lot from Solange. Her husband and three of her children were all killed by rebels, and she was raped four times by armed men in her home village in the DRC.
After she was raped the fourth time, Solange became pregnant. Determined to move forward with her life, she named her daughter Esperanza, which means "hope." Despite losing loved ones, facing sexual violence, and having to flee her village, Solange's resilience inspires other women who have faced similar trauma. Today, Solange often speaks to other survivors of rape who visit Bukavu city from her village and encourages them to have hope.
"You still have life, you still have value…You should have hopes for the future," Solange says to other survivors who come to her as they struggle with feelings of shame, worthlessness, and isolation from their families and communities.
In 1999, after the first time she was raped, Solange sought medical treatment for injuries from sexual violence by visiting the Panzi Hospital. The hospital, founded by Dr. Denis Mukwege, a Congolese gynecologist, human rights advocate, and recipient of Women for Women International's 2015 Champion of Peace Award, has healed more than 20,000 survivors of rape at no charge.
After her stay at Panzi Hospital, Solange returned to her village, but when she was raped again in 2008, she was too traumatized to stay there and fled to Bukavu city.
Who inspires you? Share her story using #SheInspiresMe and #WfWI on Twitter, Facebook, and Instagram!
In her new home, Solange, who had now lost her husband, struggled with poverty and hunger. This is why when she learned about WfWI-DRC from her neighbors, she signed up for the 12-month program offered by the organization to teach women basic business and vocational skills. Since 2004, the program has served nearly 84,000 women in eastern Congo's North and South Kivu provinces.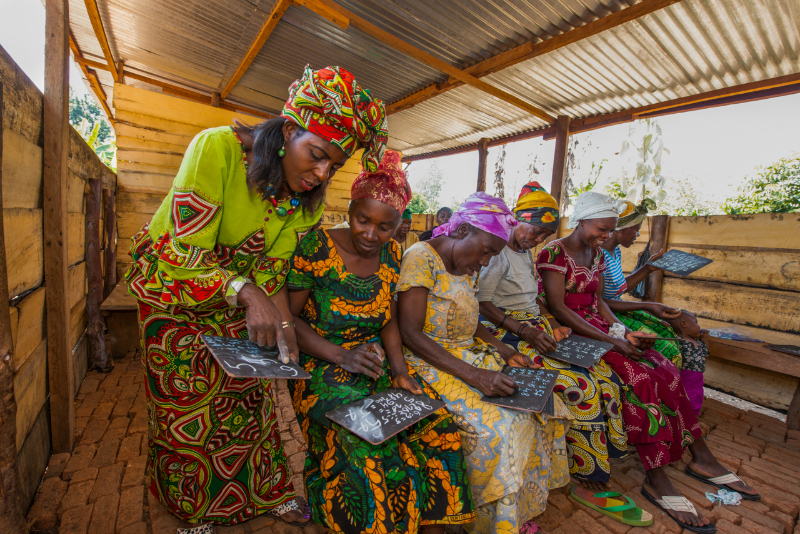 In Women for Women International's programs in the eastern DRC, women find support and learn new skills such as numeracy and basic business skills to help them rebuild their lives. Photo credit: Alison Wright
Through the one-year training program, Solange learned sustainable farming skills and is now able to cultivate vegetables, which she uses to feed her children and also sell in the market.
For Solange, the monthly stipend she received in the program also enabled her to bring changes to her family. "Before WfWI, it was very difficult. But now, I am getting the monthly stipend, which enables me to send some of my children to school."
Greater economic stability is only one of the things Solange cherishes in her new life. Solange now also knows how to protect her and her children's health.
"We got a lot of training and useful information. For instance, [we learned] how to live with others in the community, what a balanced diet is, how to feed our children," Solange says about her time at the WfWI-DRC training.
Solange has also created lasting bonds with the other women who went through the program.
"I have made good friends at WfWI because we train in groups and none of us discriminate. We all accept each other," she says.
Solange has been able to rebuild her life and is now giving back to her community. She not only takes good care of her children, but also looks after two of her nephews, who lost their parents in the war. She gives hope to and encourages other survivors of sexual violence to look towards the future. 
Check out our #SheInspiresMe page for more stories about inspiring women around the world.