"I always knew that women were powerful," says Tiffany Reed, who has sponsored several women through Women for Women International's program over the past few years. But Tiffany found new inspiration and an example of women's strength in her sister, Rose Batti from the Democratic Republic of the Congo.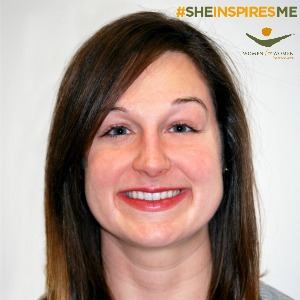 Tiffany Reed is inspired by Rose Batti, 
her sister she sponsored in the DRC.
Through a series of letters she exchanged with Rose over the course of the yearlong program, Tiffany heard how Rose had joined a cooperative with other women in her community, and found a new source of income to support their families. Her ability to overcome the challenges she faced and to earn a sustainable income inspires Tiffany. "I think it's so special that she was able to find these women and become successful together and how that was so important to her," says Tiffany.
Her favorite part about sending and receiving mail from her sister is "that one-on-one connection" and forging a lifelong bond.
Over the past 22 years, more than 420,000 women participated in Women for Women International's programs and have been able to gain new skills and transform their lives.
Tiffany has been a sister to Rose and several other women enrolled in WfWI's vocational and skills training programs for the past three years. In the video below, she explains why she feels it's important to help women like Rose get the training they need to support their families.
"What I've learned from my sister is the power of women coming together…as Rose shared in her letter to me," she said.
Aside from the letter correspondence, Tiffany says the important part for her is to "cheer her on and tell her I believe in you and I'm so proud of your doing this program."
Do you have a sister enrolled in a WfWI program who inspires you? Tell us about her using #SheInspiresMe and #WfWI on Twitter, Facebook, and Instagram!