"I am very happy that I managed to pay for my daughter's college semester this year," says Violeta Mulaj, a graduate of Women for Women International's program in Kosovo.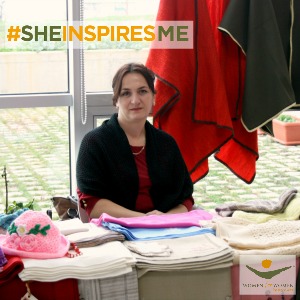 She herself struggled to finish her education. "This makes me so proud. […] I never thought that I would be able to pay for my children's education."
Growing up, Violeta remembers how the deteriorating political situation in Kosovo prevented her from finishing school. "The regime that was in power didn't allow us to attend the classes at the school in our village, and we had to go to a place far from where I lived. There was no safe means of transportation, and no security." After finishing elementary school, she says, "Most of my friends and I were forced to quit school."
In Kosovo, nearly two-thirds of women have only basic education, like Violeta had.[1] Still, she says, "I always wanted to go to high school." Nearly 10 years later and living in Pristina, Violeta finally found her chance. At age 23, she decided to start her education again, and three years later she graduated from high school.
Despite having a higher education level than many women in Kosovo, Violeta struggled to earn money to provide for her four children. That's why she saw joining Women for Women International's program in 2010 as an important opportunity. Violeta formed an association with other women who participated in the program, and together they make different kinds of handcrafts. "Learning new skills and being able to generate income has helped me to feel more secure, stronger, and proud of myself," she says. "I am able to face challenges better than I did before."
Who inspires you? Share her story using #SheInspiresMe and #WfWI on Twitter, Facebook, and Instagram!  
Determined to Inspire and Support Other Women
"I see myself as a different person now. The training helped me a lot. I am more aware, stronger, and I provide for my family now," says Violeta, now 42 years old. For her, the conversations she had with other women during the program were especially helpful, and she says these discussions "would encourage [women] to take a step forward into finding out where their strengths are and make a change."
Right now, she is focusing on her dreams for the future. She is applying for a grant to become a fair organizer and a handcrafts trainer for other women who want to learn this vocational skill. "It is very important to train other women in my community," says Violeta. "Most of them lack the courage to do something because they are afraid that they won't be able to earn."
Violeta wants to inspire other women to work, including her daughters. "My children love it when I am active," she says, though it was not always that way. "I remember when they were little and they used to ask me, 'Mom, do you have to work too?' Now I am a good example for them, especially for my daughters, as they must understand that women must work and earn."
Hoping to inspire others, Violeta remembers the woman who encouraged and inspired her: her uncle's wife, Ajshe. Like Violeta, Ajshe provided for her family through her handicraft skills, although she herself was uneducated. "By selling her products, she managed to earn enough money to start building a house for her family. She inspired me to start working myself because I felt that I could make a change too."   
>> Read an interview with Violeta Mulaj, her daughter Tradite, and WfWI-Kosovo's Social Empowerment Manager Edita Veseli on KosovaLive360. << 
[1] "Basic education" is the equivalent of up to nine years of schooling. World Bank, Kosovo: Gender Gaps in Education, Health and Economic Opportunities, (2013),  http://documents.worldbank.org/curated/en/2012/07/18063742/kosovo-gender-gaps-education-health-economic-opportunities