There is an ancient saying in Afghanistan: Drop by drop, a river is formed. This is why we at Women for Women International believe that when we come together, we can create sustainable change for women and communities around the world.
One of the many ways in which our supporters join us in our work is by organizing fundraising events to sponsor women who go through our yearlong training program that gives them access to the skills and resources to rebuild their lives. We thank all these dedicated supporters and we hope you will be inspired to join them in supporting women around the world!
Here are some of our supporters who found creative ways to be agents of change.
Artistic Fundraising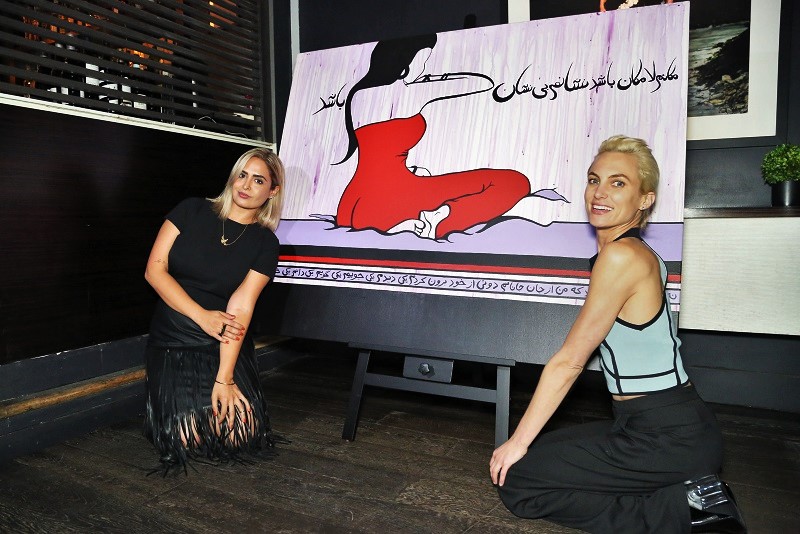 Sormeh and participant artist pose for photo at art exhibition benefiting WfWI. Photo Credit: WfWI, 2015
Sormeh Saei is the founder of SHE, an independent charity organization dedicated to improving the lives of women and girls by raising awareness and funds through arts. Through two separate art events in New York, Sormeh was able to raise enough funds to sponsor 16 women. In a two-day art exhibition that SHE held in May, the organization featured artwork by local artists and raised funds to sponsor six women in the WfWI-DRC program. In October, Sormeh and her organization held another art event where they raised $3,600 to sponsor 10 women in South Sudan.
Shopping for Good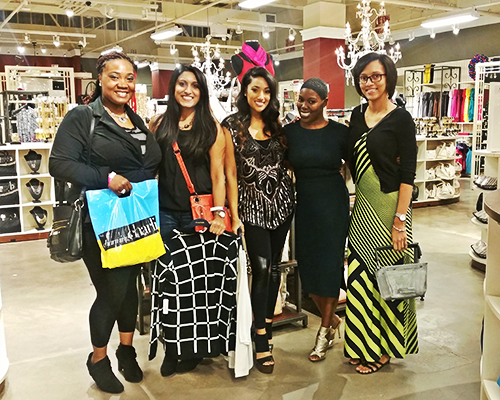 Kim and her guests share food and laughter and shopped
to sponsor women. Photo Credit: WfWI, 2015
In November, Kimberly Furr, a WfWI ambassador in Orlando, Florida, organized a girls' night at the jewelry store Charming Charlie. With great food, fantastic turnout, and 10% of proceeds going to WfWI, Kimberly was able to bring a group of passionate women in her community together and support our work with women around the world.
"Kim, I was honored to share in your love for helping women. I needed it," one event participant said to our organizer.
>> Learn about how you too can support women around the world. <<
Yogis for Women's Empowerment
Inspired by the power of women coming together, Vermont Yoga Women hosted a yoga retreat in their community. While enjoying a vegetarian luncheon, relaxation exercises, and yoga, they were able to raise enough money to sponsor four women. In addition, retreat participants learned more about WfWI's work to help women survivors of war rebuild their lives, read letters they had exchanged with women they have sponsored in the past, and wrote cards and letter for the sisters they will sponsor in the future.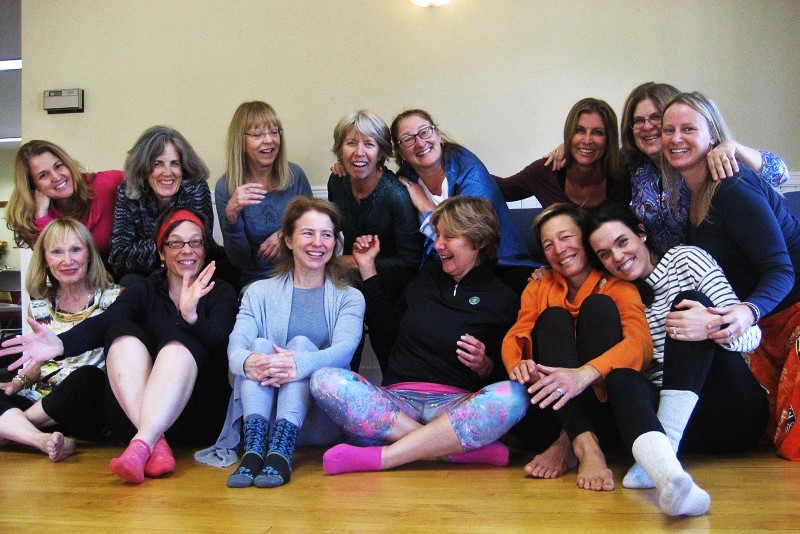 Vermont Yoga Women come together to support women around the world. Photo Credit: WfWI, 2015
"It was a huge success, a wonderful time, and generated more compassion for our WfWI cause than ever before!" said Pauline Gardner, event organizer.
Run for Women
With nearly 60 in-person and virtual participants, Amanda Ulrich, a WfWI ambassador in Portland, Oregon, held a successful 5K walk/run event to benefit our work in the Democratic Republic of Congo (DRC). The event was held through Cause + Event Foundation - Portland, which is a nation-wide race series intended to support causes around the world. Amanda's team raised more than $1,400 to support WfWI-DRC's trainings.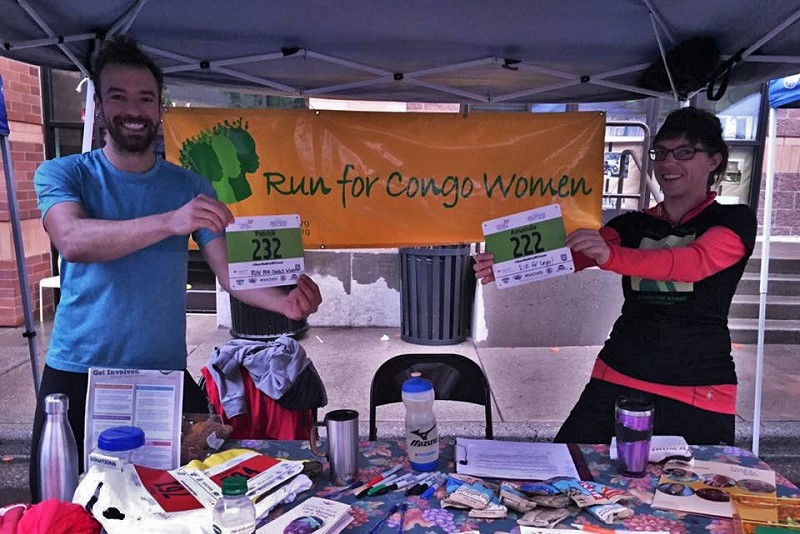 Amanda and Patrick welcome participants at event benefiting WfWI. Photo Credit: WfWI, 2015
"I love this work, and am happy to organize for such a good cause," says Amanda. Since 2001, Amanda's events have raised more than $13,500 to help Congolese women in our programs.
Cocktail Party to Benefit WfWI
In North Salem, New York, WfWI ambassador Erica Olson held a cocktail party to raise funds to sponsor women in our programs around the world. Erica and her friends not only raised more than $500 but also signed up five new sponsors for women.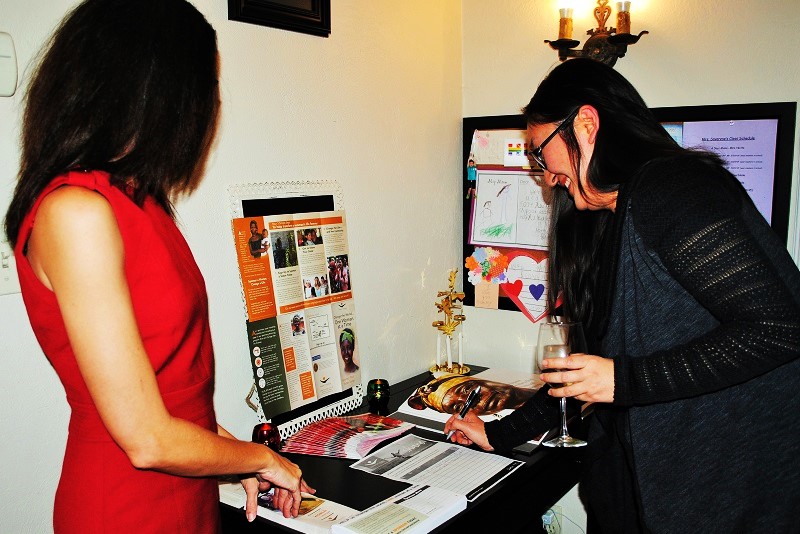 WfWI supporter, Erica Olson, greets a guest at fundraising event. Photo Credit: WfWI, 2015
"Every time I present or talk about what WfWI does, I am reminded how much we do for so many," Erica said about the event.
In addition, Erica was able to convince Chloe and Isabel's jewelry store to donate 20% of their sales until December 15th to WfWI's programs.
Carwashes to Change the World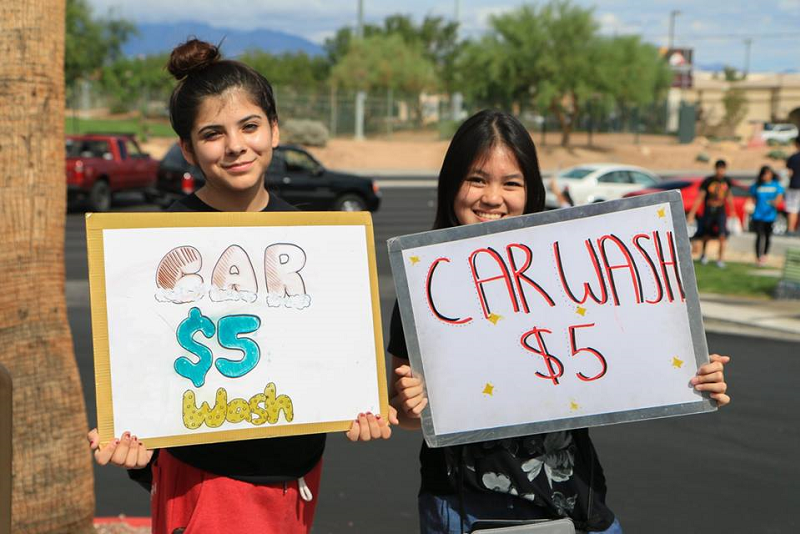 Students join hands to raise money for women trained at WfWI programs. Photo Credit: WfWI, 2015
A group of students at Ed W. Clark High School in Las Vegas, Nevada proved they are ready to make a difference in the world. More than 50 boys and girls organized a car wash to benefit WfWI and raised $350 to support our programs.
Inspired by these stories? Find out about ways you can get involved.