This week, people across Rwanda are coming together to remember the terrible genocide 21 years ago, and to stand together for the future of their country. It has been a long journey of recovery for Rwanda, and every step of the way, women have played a critical part in rebuilding their country – including one small group of women in Kigali.
Starting Over, Together
"We had a vision ahead of us," Eliane explains, as she sits with members of her cooperative weaving baskets and making beads.
Six years ago, 11 women who were graduates of Women for Women International's program in Rwanda came together to form the Agaseke Vision Cooperative. Eliane Nyiransabimana was one of those women. She's currently the president of the cooperative and is busy finding new markets for her cooperative's products, managing their finances, and connecting with local community members who are interested in learning their skills.
Eliane is also HIV positive. In fact, all of the original members of Agaseke Vision are. Shunned and stigmatized in their communities for their HIV status, the women come together not just for work, but for emotional support too.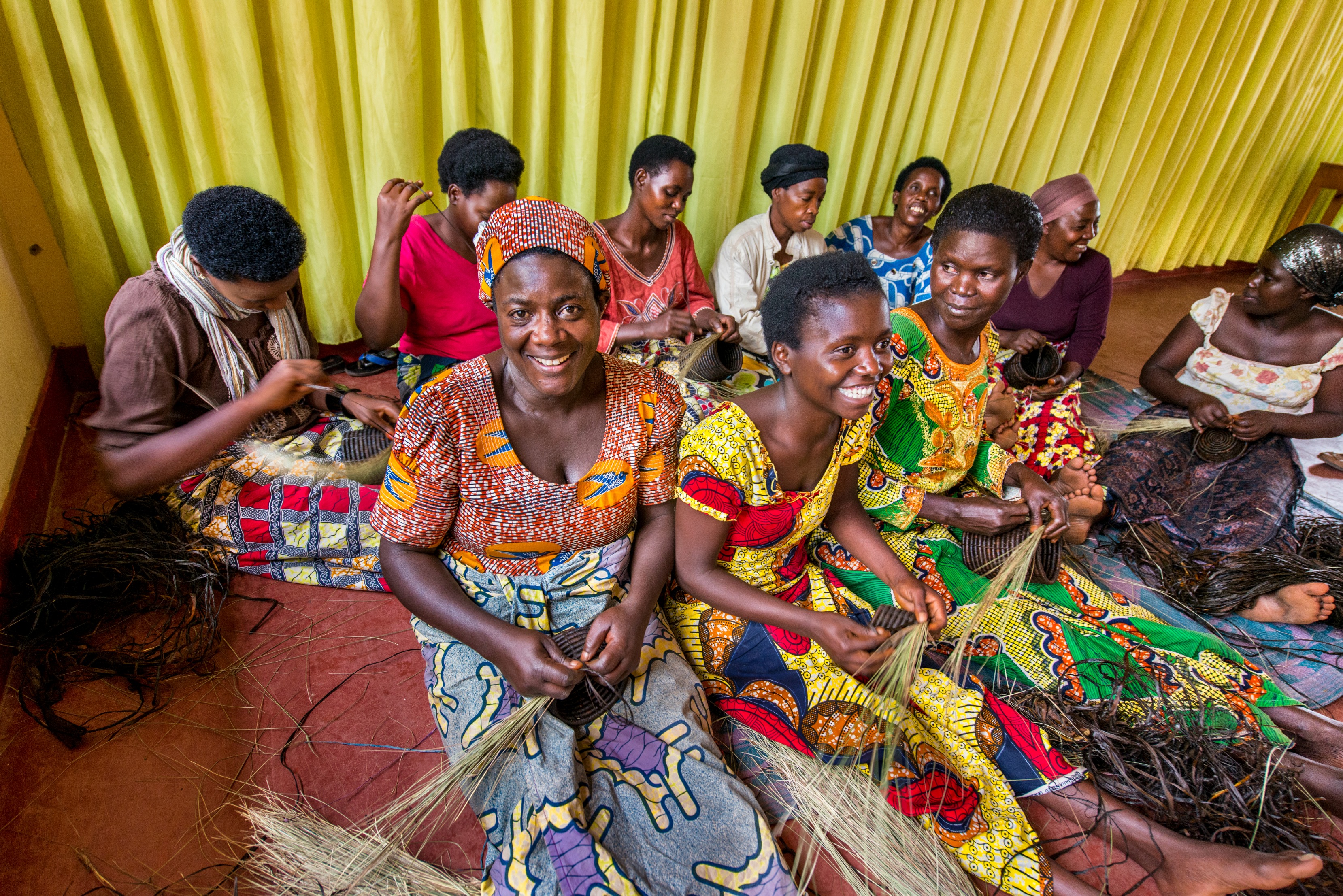 Eliane Nyiransabimana with her daughter, Francoise Nyirangirimana, and the members of the Agaseke Vision Cooperative. Photo credit: Alison Wright
For many in Rwanda, HIV is part of the terrible enduring legacy of the genocide. It is estimated that two-thirds of the 250,000 to 500,000 women who were raped during the genocide were also infected with HIV.[1] While rates of HIV have declined in recent years, 200,000 people in Rwanda live with HIV, and roughly 3% of the adult population ages 15 to 49 are infected.[2]
Building their Business and Breaking down the Stigma of HIV
For the women of Agaseke Vision, their HIV status is not slowing them down. About 60 percent of their business comes from Gahaya Links, a private Rwanda-based company that sells handicrafts worldwide. The remaining income comes from the cooperative's direct sales to tourists and other customers.
In addition to income, the cooperative helps its members by allowing them to each take out a loan of 20,000 RWF (nearly 30 USD). Eliane is proud that 10 women in the cooperative have been able to build their own homes or are in the process of constructing one. All the members pay their children's school fees.
As the Agaseke Vision cooperative has grown, they are seeing a change in how the community treats them. Members have trained some of their neighbors in bead-making and basket-weaving. They feel the stigma surrounding their HIV status is lessening in their local community. In fact, five neighbors have joined the group.
A New Vision for Her Future
For Eliane, her journey to become the president of Agaseke Vision would not have been possible without the support, courage, and inspiration she found from others.
Several years ago, she was selected by local government officials to join Women for Women International's yearlong training program. "They chose the poorest of the poor for the program," recalls Eliane. At the time, she was a widow raising four daughters. Through mother-to-child transmission, one of her girls is also HIV positive.
"I used to sell small items like bananas and avocadoes on my head in the street," Eliane says. During the program, she learned business skills and vocational skills in bead-making and basket-weaving, which gave her the foundation she needed for starting Agaseke Vision.
Eliane Nyiransabimana weaves a basket using skills she learned through WfWI's yearlong program. Photo credit: Alison Wright. 
Eliane says she also learned about her rights and the rights of her children for the first time. "I learned a boy child and a girl child should have equal rights at school and at home. While my first daughter did not complete secondary school, my younger daughters are in school."
She also no longer feels ashamed of her HIV status. "The Women for Women International trainer taught me to accept that I was HIV positive and to move on with my life." It's something she's helping the women of Agaseke Vision – including her HIV-positive daughter Francoise – accept as well.
Today, Eliane is dreaming of bigger things for Agaseke Vision. She wants to produce and sell more products and to obtain even larger orders from Gahaya Links and other companies. She even hopes to build a website for the cooperative to sell directly to customers worldwide. Together, the women of Agaseke Vision are building a new future for their families, and creating a more supportive environment in their communities for others living with HIV.
To learn more about our work in Rwanda, click here.