"I had a large family but out of that large family only me, two of my children, and my brother-in-law's children survived," she says. Before the genocide, Caritas worked as a farmer, and her modest income was enough to feed her immediate family.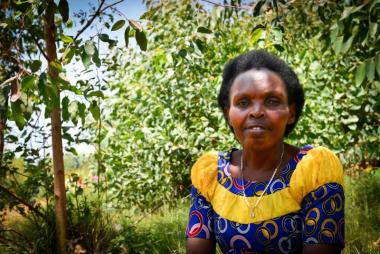 But when violence erupted, Caritas was forced to flee to Burundi with surviving members of her family. When she returned to her homeland two years later, Caritas grappled with new realities. Crops and livestock were destroyed, and entire communities were gone. Finding an alternative source of income to feed her two children and her brother-in-law's children became a challenge.
"I wanted to go where others were."
Caritas is one of the more than 69,000 women trained by Women for Women International (WfWI) in Rwanda to help them gain the skills they needed to start over after the genocide.  Women like Caritas learn to earn an income, influence decisions in their homes and community, improve their health, and build support networks with other survivors.  
"When a woman joins the program, she comes together with 24 other women, forming a tight support group that helps to break the isolation caused by war and insecurity," says Antoinette Uwimana, Women for Women International-Rwanda Country Director.
"I had come from a large family, and…I wanted to go where others were," said Caritas. "Now I have learned to think, and I can help others solve their problems."
Read the International Business Times UK's story on Caritas  marking the 22nd anniversary of the Rwandan genocide.
Creating Income Opportunities for Women in a Male-Dominated Field 
During the program, Caritas learned vocational skills in beekeeping, a traditionally male-dominated field in Rwanda. The training enabled her to become the leader of a beekeeping cooperative called Abafitintego.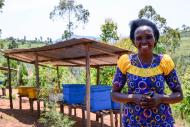 WfWI-Rwanda graduate Caritas at her beekeeping cooperative Abafitintego. Photo credit: Harriet Tolputt, 2016
Since 2013, WfWI-Rwanda has trained more than 500 women in Nyaruguru District in beekeeping and provided them with more than 400 modern beehives among other equipment. The three cooperatives are sustainable entities able to harvest honey and guarantee an income for hundreds of women, in a region where many communities struggle with poverty. According to the National Institute of Statistics of Rwanda, 61.6% of the population in Nyaruguru District are living in poverty, and many still lack access to clean water and other basic resources.  
The success of the beekeeping cooperatives in providing high quality honey has even caught the eye of the local government. The Ministry of Natural Resources is investing in women's cooperatives by building a modern honey processing unit that would allow the women not only to produce more honey, but also evaluate the quality of the honey they receive from other beekeepers and provide higher quality products to the market. The facility will make it possible for women to have a physical space where they can sell their products. In addition, the Ministry has invested in providing the three cooperatives 150 modern beehives and constructed a new shelter for the beehives in Caritas' Abafitintego Cooperative.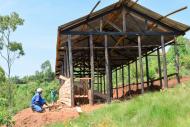 Traditionally, beekeepers burn off beehives in order to retrieve honey. This often affects the quality of the honey, causing it to take on a smoky taste, or have speckles of debris in it. However, with equipment provided by WfWI-Rwanda and the Ministry, the women of Nyaruguru are now able to harvest honey using a sustainable and effective method that preserves the quality of the honey.
The women hope the new equipment and support from the government will contribute to the sustainability of their beekeeping cooperatives. Moving their honey production business to a new processing unit will improve their chances of serving larger markets.
Honor the women in your life with a Mother's Day gift that helps women survivors of war like Caritas.
Moving Forward 
By creating and sustaining their beekeeping businesses, Caritas and the other women in her cooperative are working together to find a path forward, strengthening not only their community but themselves.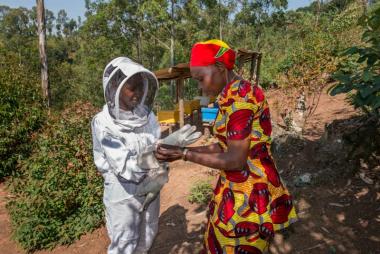 "Since the genocide, I have learned to accept myself...I have been chosen as a judge in my village to help to sort out conflicts, like family arguments or when animals have eaten another family's crops, says Caritas." 
In addition to that, Caritas has formed lasting friendships with the women in her group, and she's proud of the progress she's made.
With her youngest son now studying computer science at a local university, Caritas went on to say: "I may be old but my future will be much better. I am now working for my children so that they can lead a better life than me."
Inspired by Caritas's story? Give a beekeeping basket as a Mother's Day gift to a woman survivor of war.