How two sisters transformed their lives
Missiles and bombs in Syria forced two sisters, Sheiran and Kabira, on a hazardous journey.  
Sheiran and her husband navigated through treacherous territory where extremist groups and rival militant factions regularly clashed. When she finally reached the Iraqi border, the army fired at the refugees. Fortunately, they survived and ran away, helped by the Peshmurga, or Kurdish Army.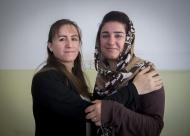 Kabira's trip was just as dangerous. On the way to Iraq, Kabira's bus came under fire. Explosions surrounded the vehicle, injuring the driver. They made their way to Al-Qamishli, only to find it racked by violence between extremist groups, government troops, and Syrian opposition forces. As they continued to the border of the Kurdistan Region of Iraq, smugglers tried to take advantage of their desperation. But the Peshmurga arrived to shepherd them in. As Kabira crossed the border, the smell of its soil filled her nose, and she kissed the ground, thankful for safety.  
But one more test awaited her: On the trip from Duhok to Erbil, where many refugees stay, her driver deceived her, stealing their belongings and money.  
But finally, in Erbil, the sisters reunited. There they found safety, but regaining a sense of normalcy proved a challenge. Kabira and Sheiran kept each other company, yet they yearned for the community that conflict had robbed them of. Loneliness drove Kabira to constant tears.  
"Being at home was incredibly boring and soul-destroying. I'm not one for staying home as a housewife. At home in Syria, I was active all the time," said Kabira.  
Joining our signature program offered Kabira and Sheiran a chance to leave their home, meet other women, and learn about business, health, family planning, and their rights in a safe space where they can share their lives and heal from trauma.  
"When I come here, I forget about being a stranger by being amongst women who have been through a similar experience," said Sheiran.  
Kabira has found joy in sharing her daily life with other women. "One of the best things was going outside," she said. "Conversations, sharing our stories, sharing our lives, sharing ideas—we can be friends. This is the benefit of the training." 
Along with gaining new friends, the two sisters connected with the lessons about gender-based violence (GBV). By better understanding GBV and their rights, they learned they no longer had to suffer in silence in their own homes.  
"It has given us the language to understand how we feel. We have the language to speak about it and have a voice," said Kabira. Realizing that gender discrimination includes financial deprivation, she now discusses these issues openly with her husband, so he knows that this behavior is unacceptable.  
By sharing their lessons with the women around them, Kabira and Sheiran have created a ripple effect where more women know where to go if they experience gender-based violence, and how to have conversations with their husbands to change harmful social norms.  
These sisters' transformative journey started thanks to their new community in Iraq—and because of a global community of supporters. Investing in women like Sheiran and Kabira helps them unlock their power so they can use it to make the world better. 
"We hope that we can return to where we lived before without the disgusting, awful militia and extremists who have made our lives hell," Kabira dreams aloud. "Without war, without fear, without persecution: We want to rebuild our lives and our country."