Connecting the women in our program and their families to health and medical services remains a high priority for improving health outcomes and overall empowerment.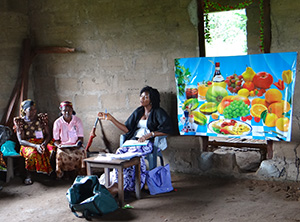 In each country where we work, our staff identify the specific health problems that are unique to the local context. This includes gathering key information about prevalent infections and rates and incidences of disease transmission. As we integrate key information into our curriculum, we develop culturally appropriate training modules and identify partners.
The approach varies in each country and most often leads to securing relationships that increase health knowledge and access for women. Connecting the women in our program and their families to health and medical services remains a high priority for improving health outcomes and overall empowerment. 
Examples of Key Partnerships
Since 2000, our Nigerian program leaders have developed relationships with different health organizations, research centers, teaching hospitals and the Nigerian Ministry of Health. Their goal is to increase access for women we serve in our programs and their families. Special attention has also been given to HIV testing, care, and treatment due to the high infection rates.
Receiving Needed Medical Supplies
In addition to access and training, cooperation between Women for Women International – Nigeria and health organizations has improved access to different types of medical supplies. These resources include deworming medicine, wheelchairs, eyeglasses, and contraceptives. Special training has also been offered in communities with specific, acute health issues such as elephantiasis, typhoid, and malaria.
Breast Cancer Screening and Testing
In the Balkans, our country offices in Kosovo and Bosnia and Herzegovina saw the need to raise awareness around breast cancer detection and testing. The program leaders at Women for Women International – Bosnia and Herzegovina and Women for Women International – Kosovo  have worked to provide information and links to testing and encourage women to use these services. We have also worked to negotiate reduced fees for services. In Bosnia, for example, we started collaborating with UNFPA in 2011 to encourage women to seek breast cancer tests and participate in awareness campaigns. 
Sensitizing Staff to Recognize Signs of Abuse
In the Democratic Republic of the Congo, our staff trainers have received training to recognize Sexual and Gender-Based Violence.  This training improves their ability to recognize the signs of abuse and guide women to places where they can access support. Our teams also follow up with women to ensure their counseling and health care needs are met.
Promising Results
As part of our routine data collection and analysis, we track indicators related to women participants' health knowledge and practice.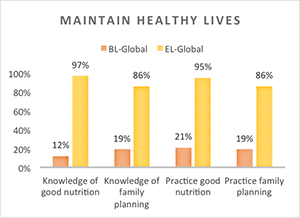 In our 2013 Monitoring and Evaluation Report, we documented significant gains in the area of improving health and wellness. Our survey data revealed that program participants' knowledge about nutrition increased from 12 percent at enrollment to 97 percent at graduation in 2013. This significant increase was also seen in the area of family planning. The percentage of women practicing family planning increased from 19 percent at enrollment to 86 percent at graduation. 
Looking Ahead
Increase our knowledge of existing health providers. As we develop partnerships with health organizations, we are using technology to expand our mapping of existing health providers and the quality of their services.

Increase our knowledge of obstacles to health access. As we strive to understand the barriers that prevent women from accessing health services, we are working to engage local community leaders including men and male leaders in local communities.

Establish relationships with health partners. While we are not a health organization, we recognize the significant value in cultivating relationships with allied health partners to deliver services. Credible and reputable NGOs, clinics, and local ministries of health provide an efficient way to increase access to services and medical supplies and testing.
To learn more, email general@womenforwomen.org for additional updates and background on our health and wellness work.